I have been incredibly fortunate to have spent several years working with a nearby wildlife rescue facility, documenting the spectacular wild animals that find a home there. One of the most magnificent animals I have ever seen was a male Siberian tiger weighing over 750 pounds that came to the facility from a rescue situation in Ireland. He was given his own very large enclosure with a small pond (because tigers are one of two large cat species, the other being the jaguar, that enjoy playing and soaking in water).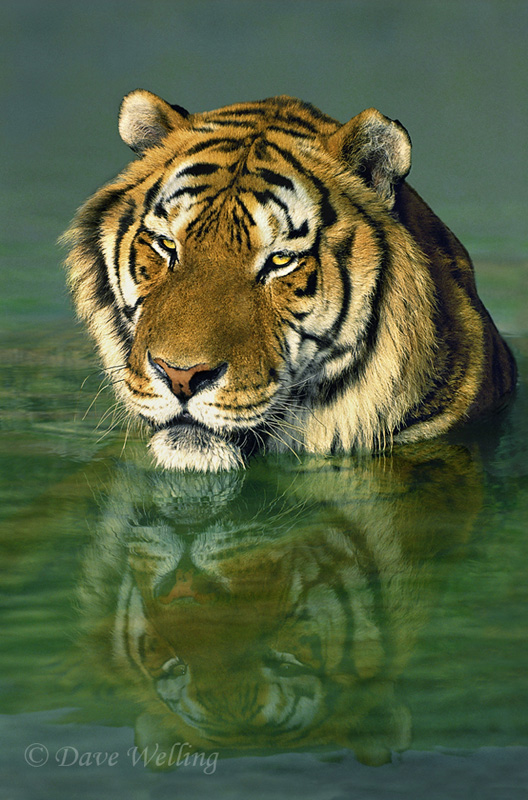 Camera – Nikon F5s film camera using Velvia50 film @ ISO100 @ 1/125 sec Lens – Nikon 70-300mm telephoto zoom lens @ F9 – equipment hand-held
I photographed this giant cat over the course of several years and always wanted to capture an image that showed his strength and regal bearing, while including some type of unique behavior. One day when I went by his enclosure I found him neck deep in his pond with a "surveying the manor" look and knew I had the composition I wanted.
I positioned myself so I could capture an image that included the reflection (an added bonus). This was the best of several images I took with my hand-held rig, shooting through the massive chain link fence that kept him separated from the other tigers and lions in the area.
Related Article: Tips for Capturing Great Photos of Reflections
About the author: Dave Welling is a full time professional photographer specializing in wildlife, landscape and nature with over 75,000 6×7, 6×4.5, and 35mm film and digital images. He has been capturing evocative images of the natural world for over 25 years, producing the highest quality images for publication. His images often capture unique behavioral characteristics of wildlife or special lighting or weather conditions of landscapes. You can see more of his work at www.strikingnatureimagesbydavewelling.com.
Have something to add to the story? Leave a comment or email editor@outdoorphotographyguide.com.