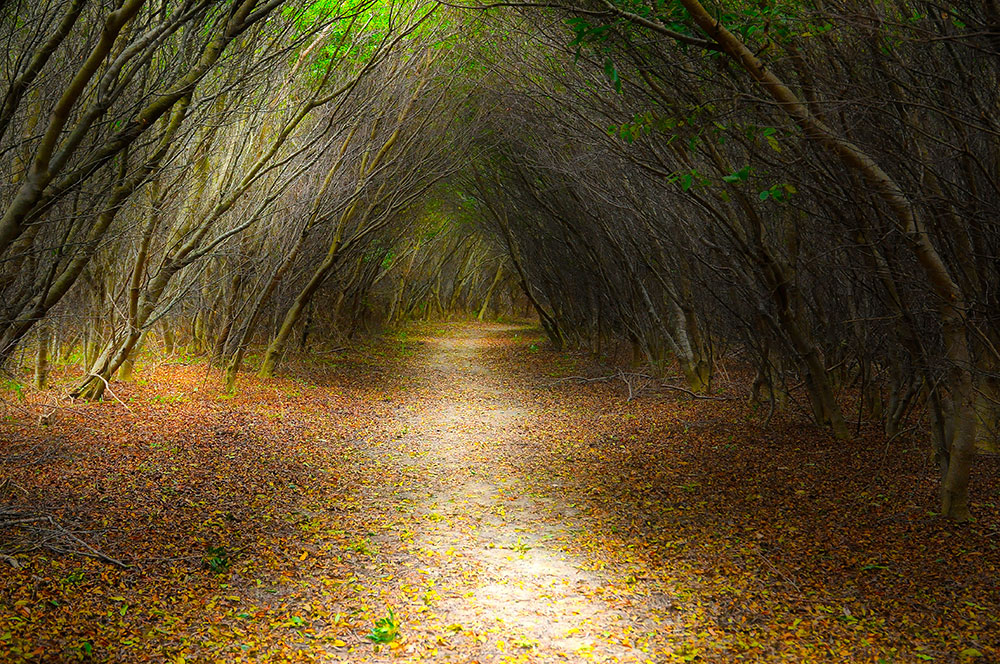 "Draws You In" by Eric Enger. Camera – Nikon D-300, Lens – Nikon 24-70 mm, Shutter 1/100, f- stop 3.3 at 29mm, ISO 800, handheld.
"My wife and I were on vacation at Assateague Island, Maryland, when I came across this interesting walking path. I said to myself, 'I need to get a shot of this area.' I entered this photograph into two local photo contests. In one contest it won Honorable Mention, and in the other it took first place in the Landscape category and was voted People's Choice Award. I did sharpen and adjust levels in Photoshop, and added a slight touch of color." – Eric Enger
Photo Critique
This photo effectively uses two powerful compositional techniques: leading lines and framing. Here, the path acts as a leading line, encouraging the viewer to travel from the bottom (foreground) of the image to the top (background). Even though a photograph creates a two-dimensional representation, the leading line creates the illusion of depth, making the viewer feel as if they are being drawn deeper into the scene. The trees, which lean into the center of the image frame from the left and right edges, help enhance the illusion of depth by framing the background scene, focusing the viewer's attention on the end of the visible part of the path in the distance. The diagonal lines created by the leaning trees also add some energy to what is otherwise a mostly symmetrical image.
Related article: Tips for Using Foreground to Create Depth
Overall, both of these two techniques work hand-in-hand to create a very compelling composition. I have one minor quibble: there are some dead branches in the lower left edge of the image; I would have taken some time to "clean" the scene and remove these distracting elements before taking the photo. The dead branches draw the eye to the edge of the image frame and tend to take the viewer out of the composition; your goal when making a photo is to keep the eye trapped within the composition, so it is best to avoid having distracting elements at the edges and corners. Also, the light seems considerably uneven; my guess is that it was the result of some selective luminosity adjustments made while processing the image. My personal philosophy when processing images is to do it with a light touch and to avoid going too far, as the result can look a little heavy-handed if you are not careful. But overall, this is a very nice photo!
Critique by Ian Plant
Photo submitted by Eric Enger
To have your own work considered for critique by our team of expert photographers, please submit your photo along with a brief explanation to photos@outdoorphotographyguide.com. Please note: Submitting your photo does not guarantee you will be selected for feature or critique. We look for photos that can enlighten our community. Stories may be edited for length and clarity.