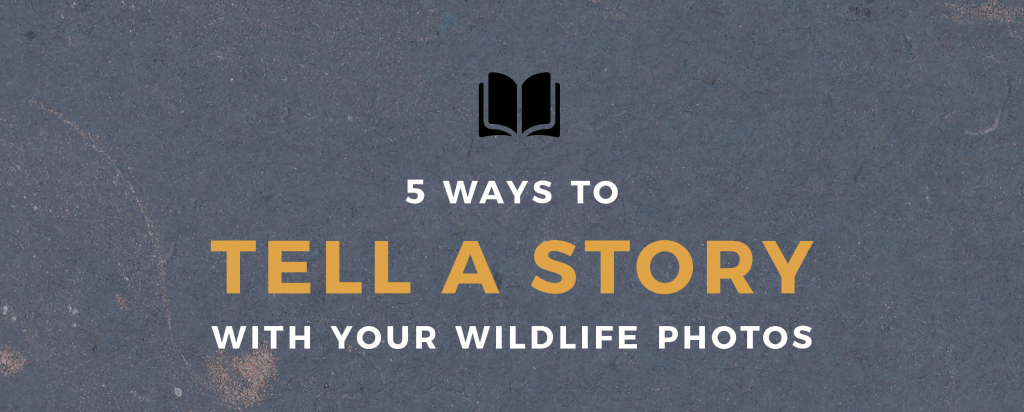 Make every picture worth a thousand words! Successful wildlife photography requires much more than just getting technically perfect photos of animals striking interesting poses. Instead, the wildlife photographer must strive to capture his or her subjects within the broader context of the environment by telling a story.

Light, color, motion, composition, and the magic of the moment are all creative tools at your disposal, and you should use them to create artistic and evocative images of your wildlife subjects. For example, with this photograph below of a mountain gorilla, I shot through a colorful screen of leaves to elevate this image beyond a mere documentary record.

Volcanoes National Park, Rwanda. Canon 70D, Tamron 70-200mm f/2.8 lens, ISO 500, f/2.8, 1/500 second.What follows are five of my favorite techniques for telling a story with my wildlife subjects.

"The eyes are the window to the soul"—this popular expression applies with double force to wildlife photography. For wildlife images, the eyes are often the most important part of the picture—the eyes tell the story. Above all, make sure the eyes are in focus. Beyond that, pay close attention to what the eyes are doing and the direction they are pointing.
Anything that invites the viewer into the scene is important when trying to forge an emotional bond; anything that can help the viewer relate to the subject is going to deepen their interest in your photograph. I like to call these "invitations to participate." A simple yet powerful example of this is eye contact with the subject. When your wildlife subject looks right at you, trigger the shutter. Such moments help establish a personal connection between the subject and your viewers. Although in certain circumstances, such as with this close-up view of a fierce lion gorging herself on a kill, that connection may make your viewers nervous!
Masai Mara National Reserve, Kenya. Canon 1DXII, Tamron 150-600mm f/5-6.3 lens, ISO 6400, f/11, 1/500 second.

Each moment is different—and each is fleeting and ephemeral. Henri Cartier-Bresson, one of the most famous practitioners of the art of street photography, coined the phrase "the decisive moment," referring to the peak moment when two or more elements interact in a meaningful way. Cartier-Bresson relied on capturing convergences of motion, shape, and expression to create his art; ideally, the moment would also tell a story about the subject.

Wait for the moment when your wildlife subject does something interesting. Whether stretching its wings, tilting its head, yawning, or biting, becoming a master of the moment will greatly improve your photos. The moment should tell a story about the animal and its behavior. Sometimes waiting for the right moment may mean doing nothing but watching an animal's butt stick up in the air for hours as it grazes—but when the right moment comes, you'll be glad you were patient.

Interactions between two or more animals are a sure crowd pleaser. For the photo below, I watched two polar bears brawl during a snowstorm for at least an hour. I took many photos during their playful wrestling match, but the one below is one of my favorites, as it captures the moment when they both opened their jaws, creating a symmetrical composition.

Arctic National Wildlife Refuge, USA. Canon 70D, Canon 200-400mm f/4 lens with built-in 1.4x extender, ISO 2500, f/6.3, 1/1000 second.

Don't be afraid to get artistic with your wildlife images. Try to go beyond mere literal documentary shots, and aim for something moody, evocative, and dynamic instead. Something I like to call "atmosphere" can help. Atmosphere, in a photographic sense, can mean anything that gets between your lens and your subject to soften and diffuse the light, including fog, blowing snow, dust, or even elements intentionally placed in front of the camera such as a screen of out-of-focus leaves. Atmosphere can have a profound impact on light intensity and color, and can help push your photos into the realm of the abstract.

Related article: Creative Use of Bokeh in Photography

Bad weather can help create atmosphere; although it may be unpleasant, shooting through rain or snow can be very rewarding, as snow and rain help diffuse the light, obscure potentially unattractive backgrounds, and add a dash of impressionism to your photos. But other things can be used to create atmosphere; for example, with the shot below, I used the backlit dust kicked up by a horde of migrating wildebeest to creative effect. Atmosphere allowed me to transform my subject, creating an artistic, mysterious photo in the process.

Masai Mara National Reserve, Kenya. Canon 1DXII, Tamron 150-600mm f/5-6.3 lens, ISO 250, f/6.3, 1/200 second.

Here's a secret you might have already figured out: there's no such thing as a "right" or "wrong" exposure. In fact, your choice of exposure is one of your most powerful creative tools as a photographer. Exposure is not a fixed value; rather, it is something you can adjust to suit your personal artistic tastes. So don't always go for an exposure that shows your subject the way your eyes see it.

Exposure can be adjusted in two ways: (1) before you trigger the shutter on your camera, by adjusting aperture, shutter speed, and/or ISO, and (2) when processing your image file on the computer. Either way, it is entirely up to you how light or dark you want your images to be: your exposure choice can determine whether your images are bright, dark, or anywhere else in between.

Related article: Backlighting Photography Tips for Photo Magic

For this image of Cape fur seals, brightly lit from behind by the setting sun, I intentionally underexposed the photo to reveal only the rim-lit outline of the animals, adding a dash of creative mystery to the photo. I was careful to keep the highlights from overexposure, which cast the rest of the image into deep shadow. I creatively used the specular highlights in the background—formed by out-of-focus, brightly lit wet seals—to enhance visual interest.

Cape Cross Seal Reserve, Namibia. Canon 5DIII, Canon 200-400mm f/4 lens with built-in 1.4x extender, ISO 640, f/5.6, 1/800 second.

Sure, tight frame-filling animal portraits are exciting, but sometimes it's better to take a wider view and include enough of the animal's surroundings to tell viewers something about how and where it lives. Although the wildlife subject will still be the focus of your image, surround it with elements of the environment that strongly relate to the animal, tell a story, and create a compelling composition.

Related video: Wildlife Photography Techniques for Better Composition

For example, with this image of a Sumatran orangutan swinging overhead on a vine, I took a wide view to tell a story about her lush rainforest home. I used fill flash at low power (-2 compensation) to highlight the orangutan, and underexposed the rest of the image to tame the bright highlights in the background. Her line of sight helps to reinforce the curving shape of the vine and makes the composition more dynamic. The result is a more interesting photo than if I had zoomed in for a tight portrait—and a more interesting story, as well.
Conclusion
Think critically about the stories that your wildlife images tell. Wait for moments when your subject is doing something that viewers can relate to, or that somehow illustrates an unusual behavior. The best photos capture the imagination, making your viewers wonder more about the story behind the image.