Mount Nyiragongo, located in Virunga National Park with the Democratic Republic of the Congo, is an active stratovolcano that has erupted at least 34 times since 1882. The most recent major eruption of the volcano occurred in 2002, destroying 4,500 buildings, displacing 400,000 people, and causing 147 casualties. The primary draw of Nyiragongo is the churning lava lake found within the giant crater at the mountain's summit. Volcanic activity within the crater has recently increased, leading scientists to think that another eruption may be coming sometime soon.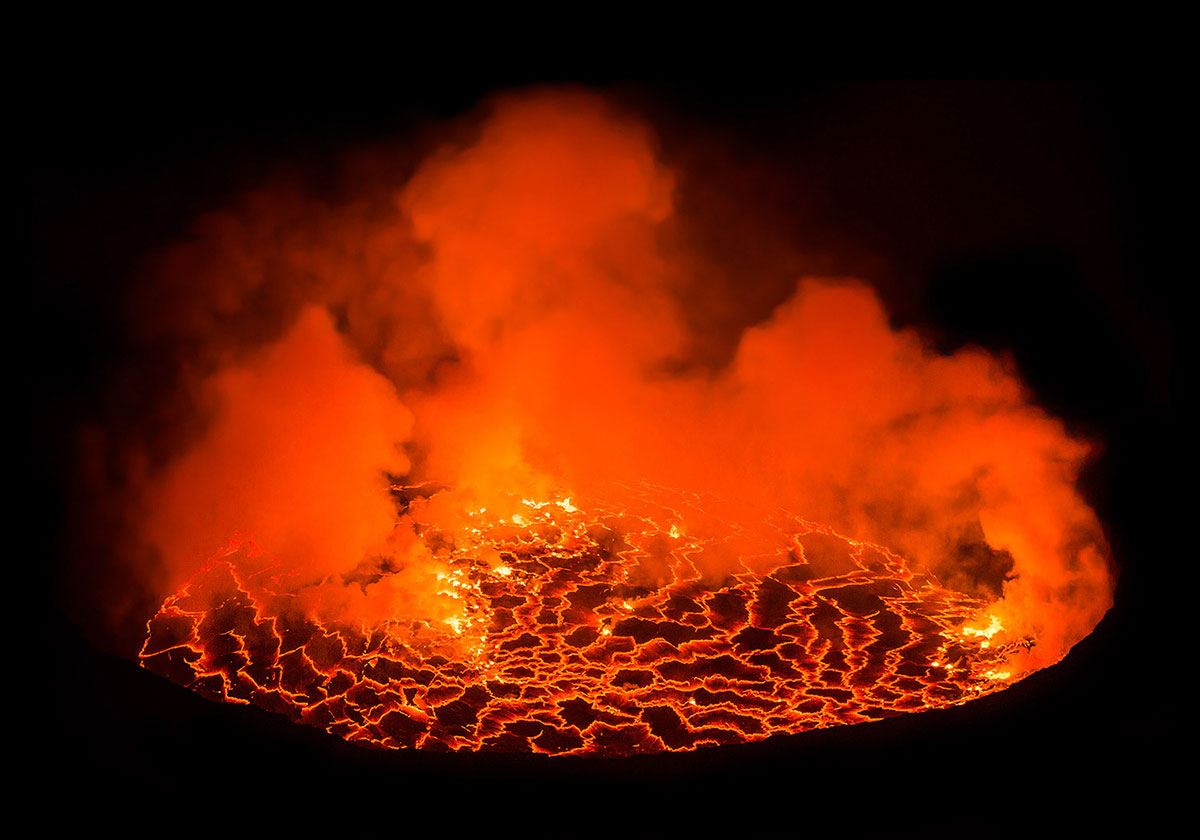 Canon 5DIII, Canon 100-400mm f/4.5-5.6L II lens, ISO 800, f/4.5, 1/50 second.
You can't just go up Nyiragongo on your own, you have to be part of a group escorted by armed rangers. You can arrange a trip to the crater through Virunga National Park, or through a number of private guide services. My group had a total of six tourists (including myself), a few guides, two rangers, and a number of porters. We spent six hours ascending to the summit; it was quite a steep climb, and with a height of 11,382 feet above sea level, one begins to feel the elevation, especially near the summit. There are rustic huts at the top of the mountain where visitors sleep overnight. Immediately upon my arrival, I walked to the edge of the crater, looking down several hundred feet to the lava lake below, which is surrounded on all sides by overhanging cliffs of soft crumbling rock. When twilight began to set in, I got to work, starting to take photos as the lava became more and more visible in the fading ambient light.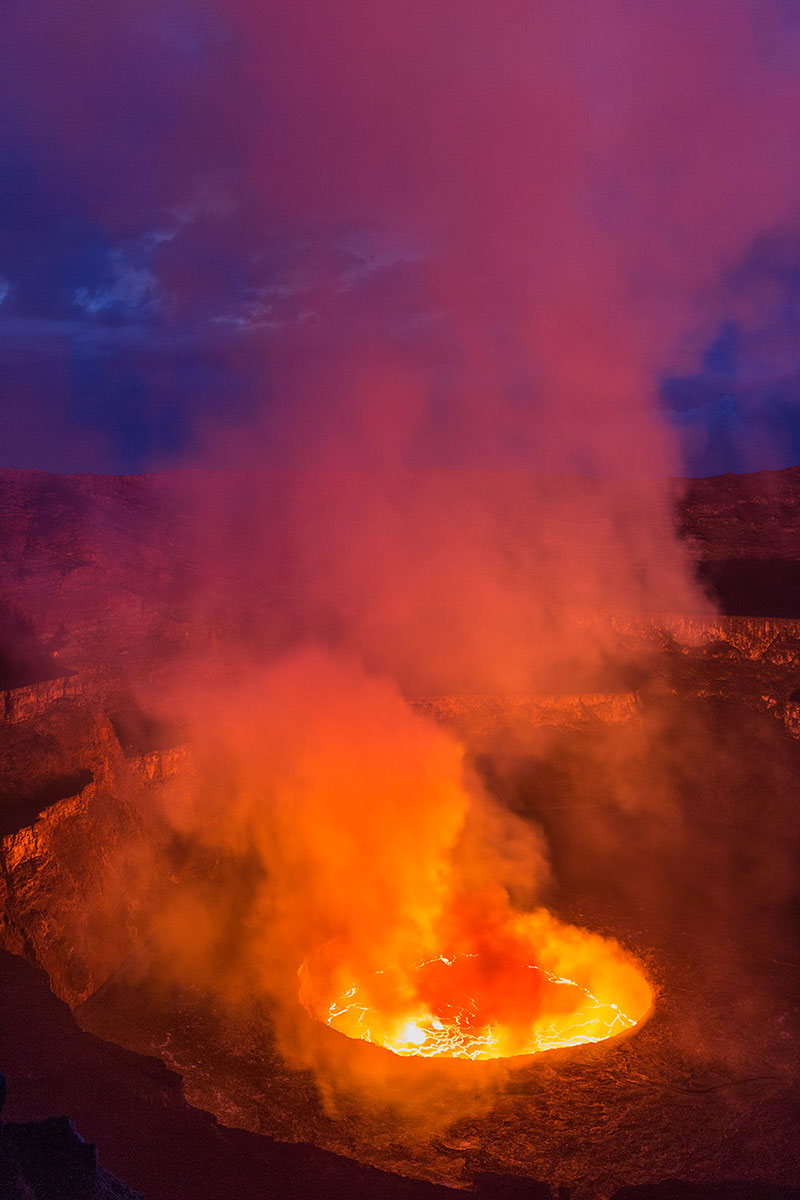 Canon 5DIII, Canon 24-70mm f/2.8L lens, ISO 800, f/2.8, 1.6 seconds.
Once it got dark, the lava became very visible. It was an amazing sight to behold, watching as the magma slowly heaved back and forth within the pool. I zoomed in tight, looking for interesting patterns. The lava was constantly changing and always slowly moving, so I increased my ISO enough to avoid unduly long exposure times.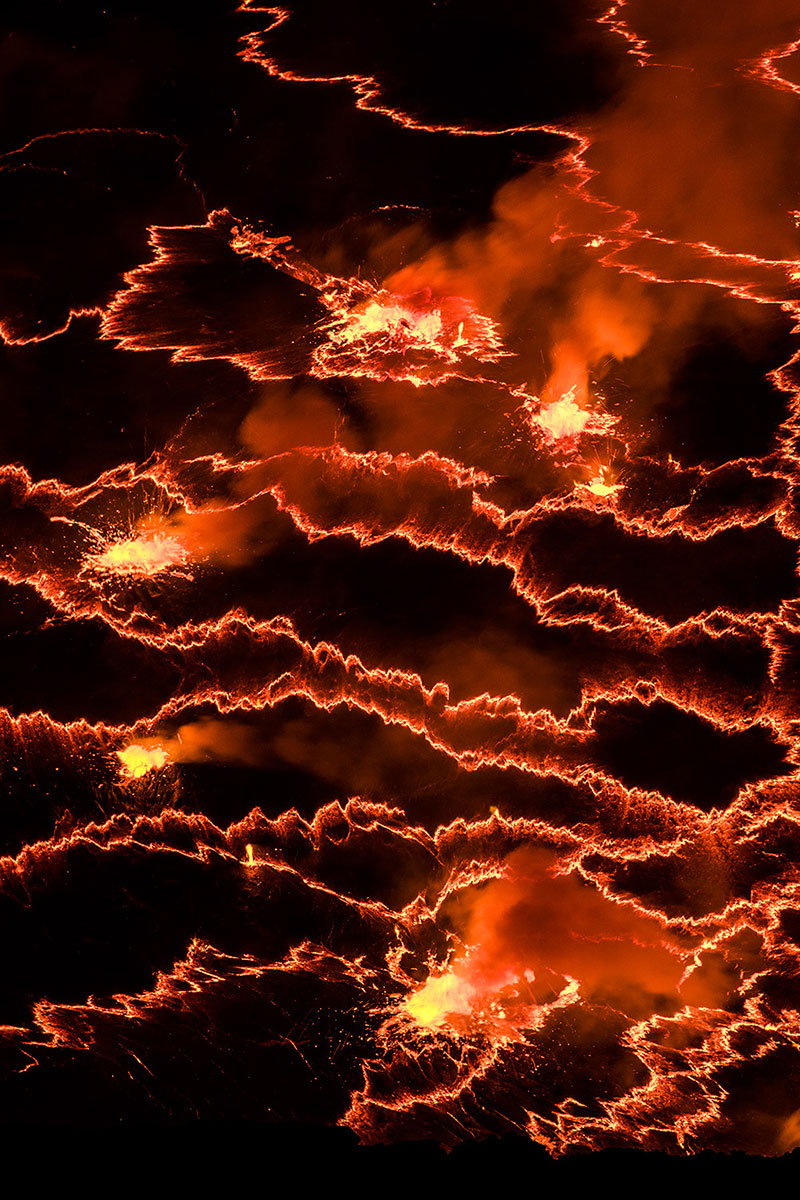 Canon 7DII, Canon 100-400mm f/4.5-5.6L II lens, ISO 200, f/8, 1/8 second.
The greatest challenge to photographing the lava lake was the smoke emitting from the volcano. At times, flares would erupt, and the sudden burst of flames would create a lot of smoke. Sometimes the entire lake would be completely obscured by the smoke, but never for very long, as a change in the wind would blow the smoke away, or the fires would die down for a while and the smoke would dissipate.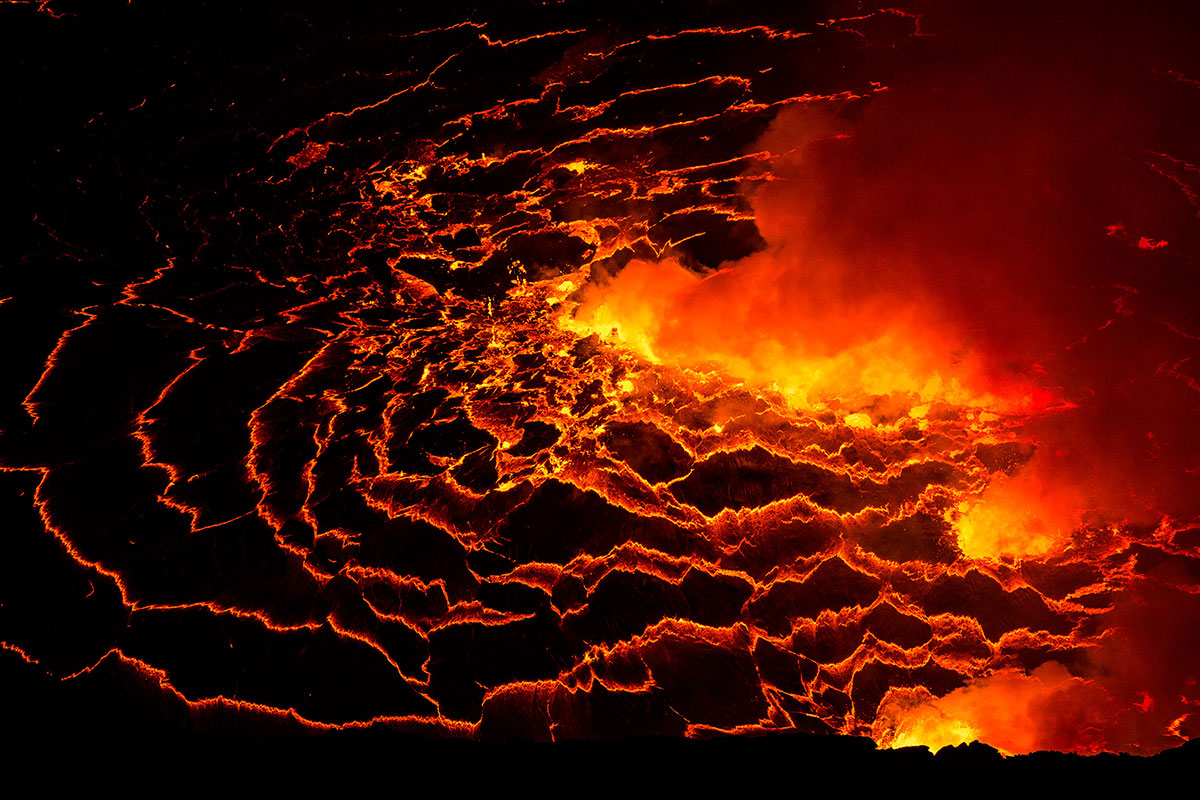 Canon 5DIII, Canon 100-400mm f/4.5-5.6L II lens, ISO 800, f/5.6, 1/60 second.
Although the lake was far below me, and most of my shots that night were taken with a telephoto zoom lens, I'm a wide-angle addict, so I couldn't resist the temptation to take in a more expansive field of view. I zoomed out to 11mm, reducing the lava lake to just a small part of the overall composition. The contrast between the bright lava in the lake and rest of the scene was extreme, so I blended two exposures together in order to increase my dynamic range.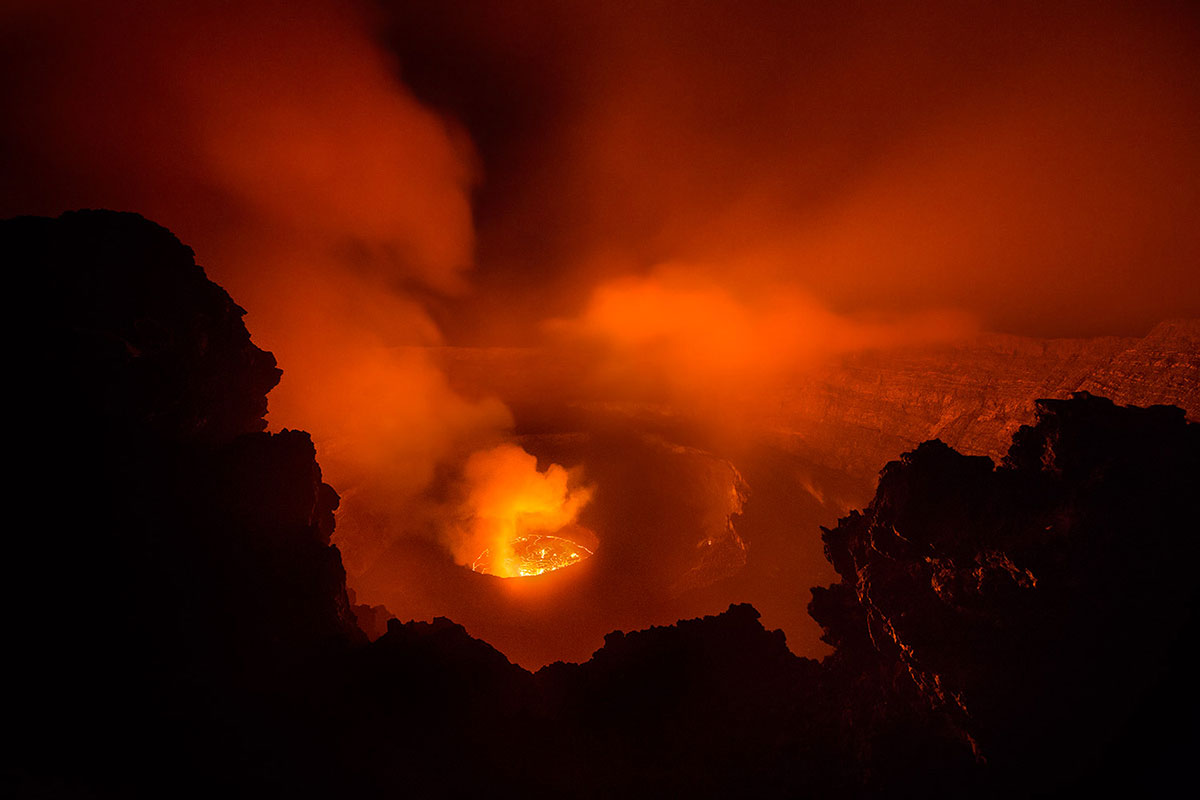 Canon 5DIII, Canon 11-24mm f/4L lens, ISO 3200, f/8, multiple exposure blend for increased dynamic range of 0.5 seconds and 4 seconds.
My night on Nyiragongo was an amazing experience, and I'm afraid that words and photos alone don't do it justice. So I've put together a short movie featuring video and still images from my night on top of the volcano, which you can watch here: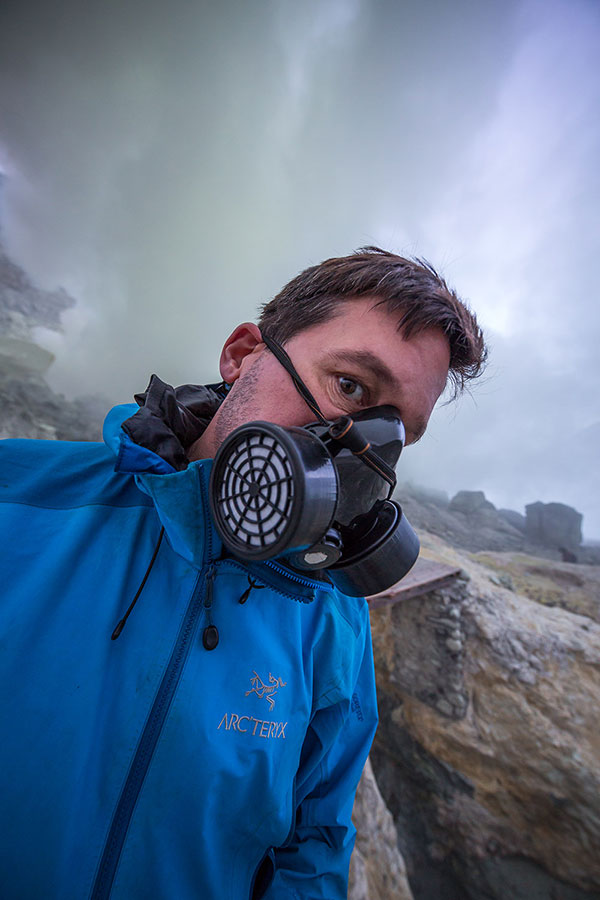 About the author: World-renowned professional photographer and Tamron Image Master Ian Plant is a frequent contributor to several leading photo magazines and the author of numerous books and instructional videos. You can see more of Ian's work at www.ianplant.com.

Have something to add to the story? Leave a comment or email editor@outdoorphotographyguide.com.