I see it all the time—photographers who show up at a location, drop their camera bag, and start shooting, never moving from that first spot. Successful photography is all about moving your feet, looking for unique and compelling angles, and finding fresh perspectives.
Changing position doesn't really change the way our eyes see the world; move around and your eyes notice the difference. Rather, changing position changes the way we normally see the world, as we spend most of our time viewing the world from one of two perspectives: standing or (too much these days) sitting. Most "normal" people don't spend a lot of time trying to figure out what the world looks like from a ground-level perspective, but as a photographer, be prepared to be doing a lot of things that normal people don't.
Remember to join the Photo Challenge Facebook Group to share your shots from this week's assignment!
To really see the world differently, you need to get low, get high, get really low, move forward, move back, move left, move right, look up, look down . . . you get the idea. To put it more simply, you need to look anywhere but where you are used to looking!
For this photo of cracked mud, I got down to ground level for a more compelling perspective. This got me close to the patterns in the mud, exaggerating their relative size and importance.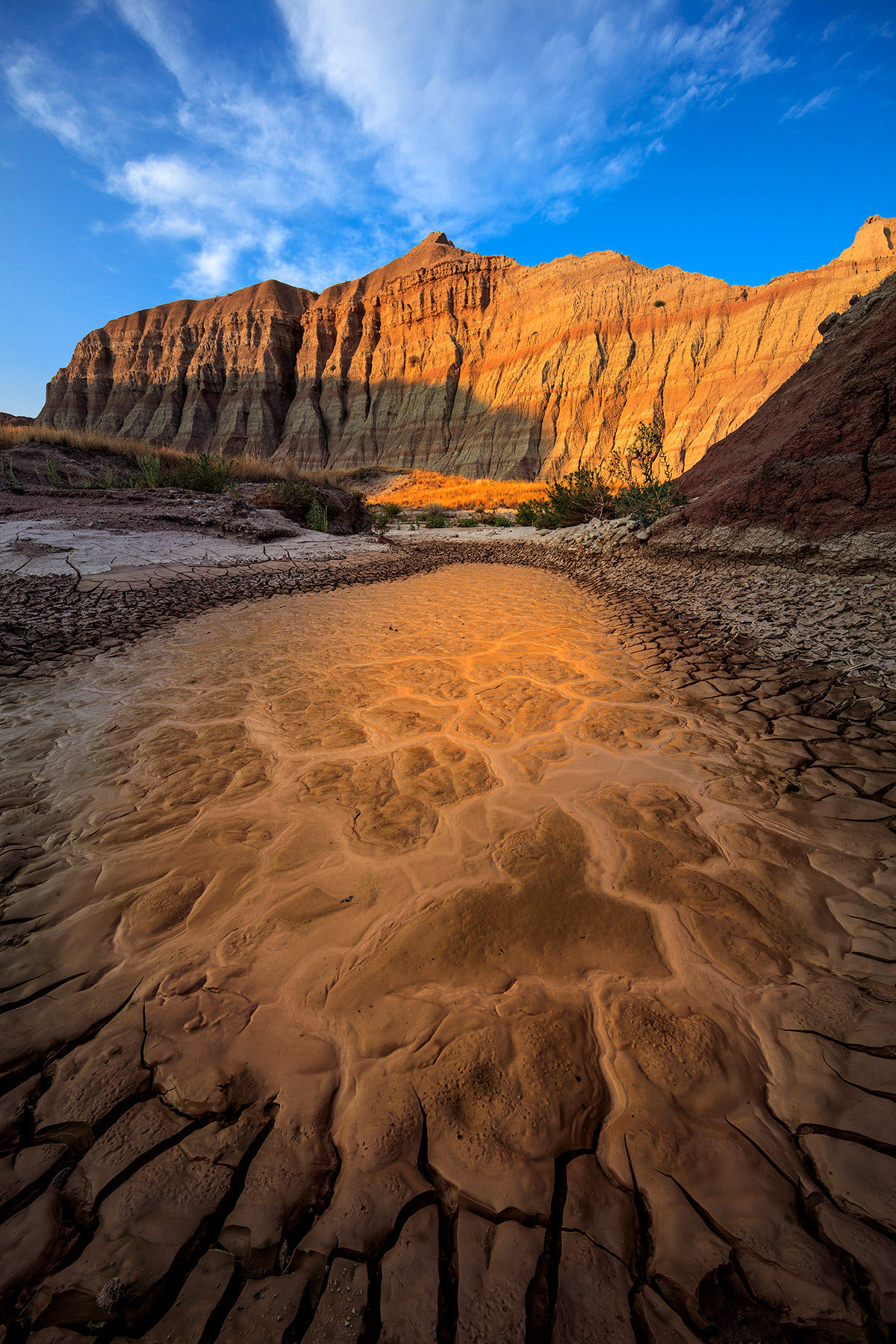 Badlands National Park, USA. Canon 5DSR, Canon 11-24mm f/4 lens, ISO 100, f/8, 1/125 second, focus stack blend for optimized depth of field.
For this assignment in the Outdoor Photography Guide Challenge, I want to see you get really creative with perspective. Be prepared to crawl around in some mud!
By getting low—almost to ground level—I was able to pull in a sea of grass into the foreground of this photo of a cheetah surveying her surroundings from atop a termite mound. The low perspective also pinned her against the blue sky, which considerably simplified the background. By shooting wide open, the grass in the foreground is rendered as an abstract, out-of-focus blur of color.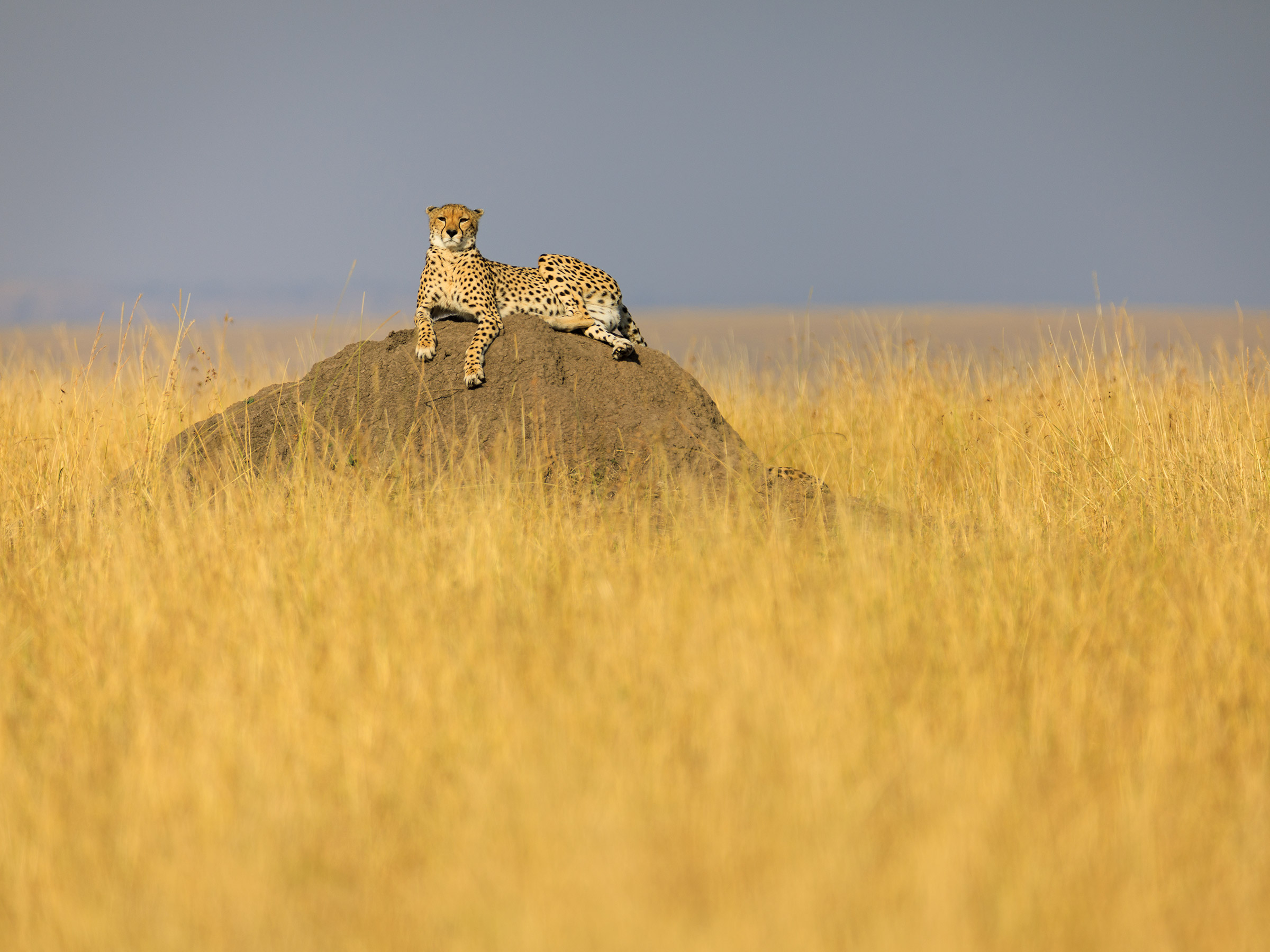 Masai Mara, Kenya. Canon 5DIV, Canon 200-400mm f/4 lens with built-in 1.4x extender, ISO 125, f/5.6, 1/640 second.
Getting low can reveal reflections. I found a rainwater pool at the base of this famous photo icon, so I got low to capture a reflection of the formation at sunset, giving me a fresh take on an often photographed subject.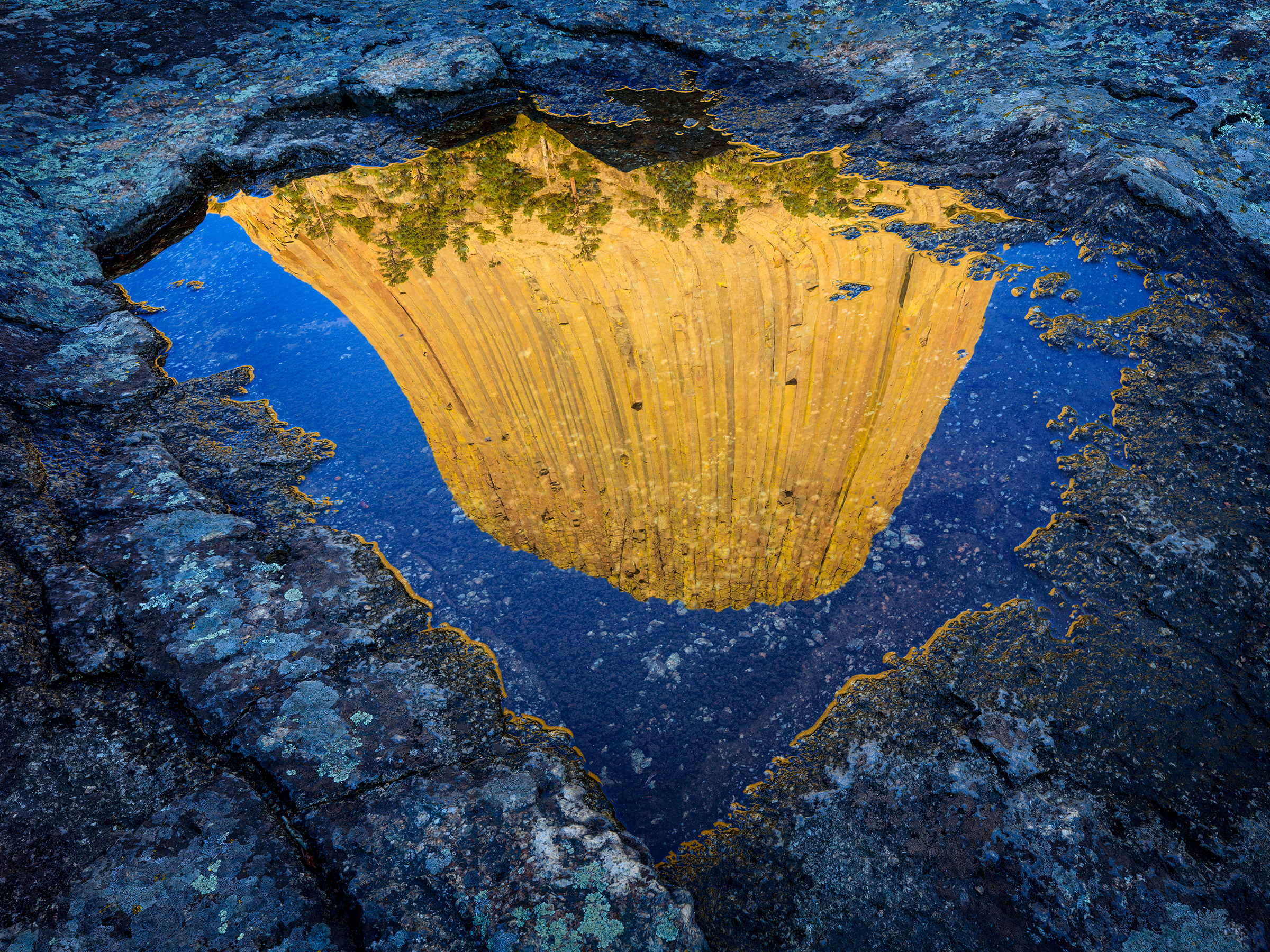 Devils Tower National Monument, USA. Canon 5DSR, Canon 16-35mm f/2.8 lens, ISO 100, f/8, 1/15 second, focus stack blend for optimized depth of field.
Point your camera up or down, and you'll notice something peculiar: straight lines will lean in toward or out away from each other. This is known as perspective distortion, and it is especially apparent with wide-angle lenses. You can use this perspective lean to your artistic advantage.
For this photo of a wild male orangutan, watching me while dangling from the forest canopy, I leaned back as far as I could with a wide-angle lens to capture this dizzying perspective. Since I was pointing my lens almost completely straight up, all of the trees appear to diagonally lean into one another, creating a compelling convergence of perspective lines. By using this unconventional approach, I was able to more effectively tell the story of my subject within the context of its environment—and I was able to create a composition with more visual appeal.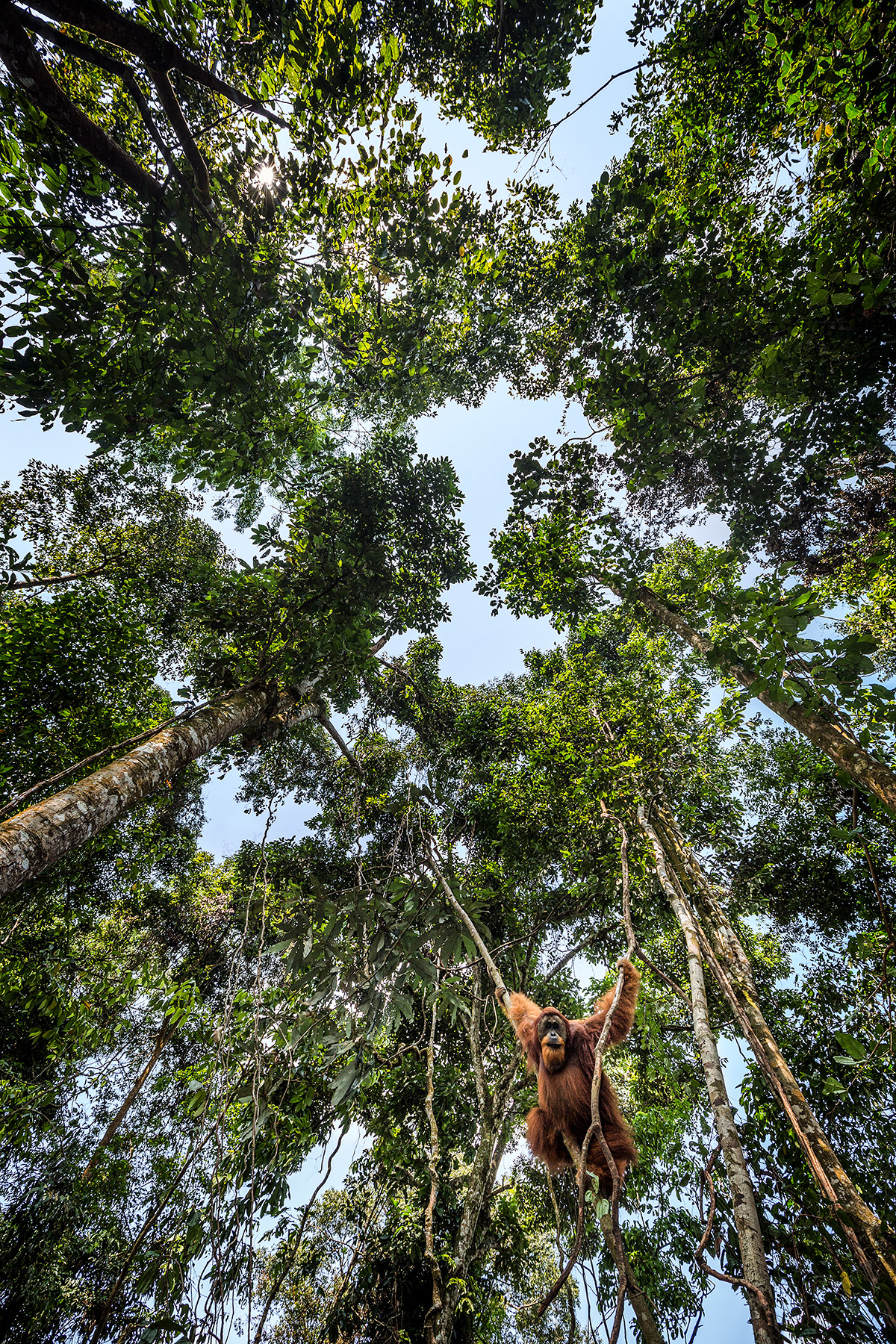 Sumatra, Indonesia. Canon 5DIII, Canon 16-35mm f/4 lens, ISO 200, f/5.6, 1/160 second.
Perspective distortion works another way: get close to an object, and you can make it look larger and more prominent within the composition. This self-portrait is a good example; although the foreground sandstone arch is only half as tall as I am, because my camera was very close to the arch, and I am standing farther back in the scene, my kayak and I look relatively tiny within the overall composition.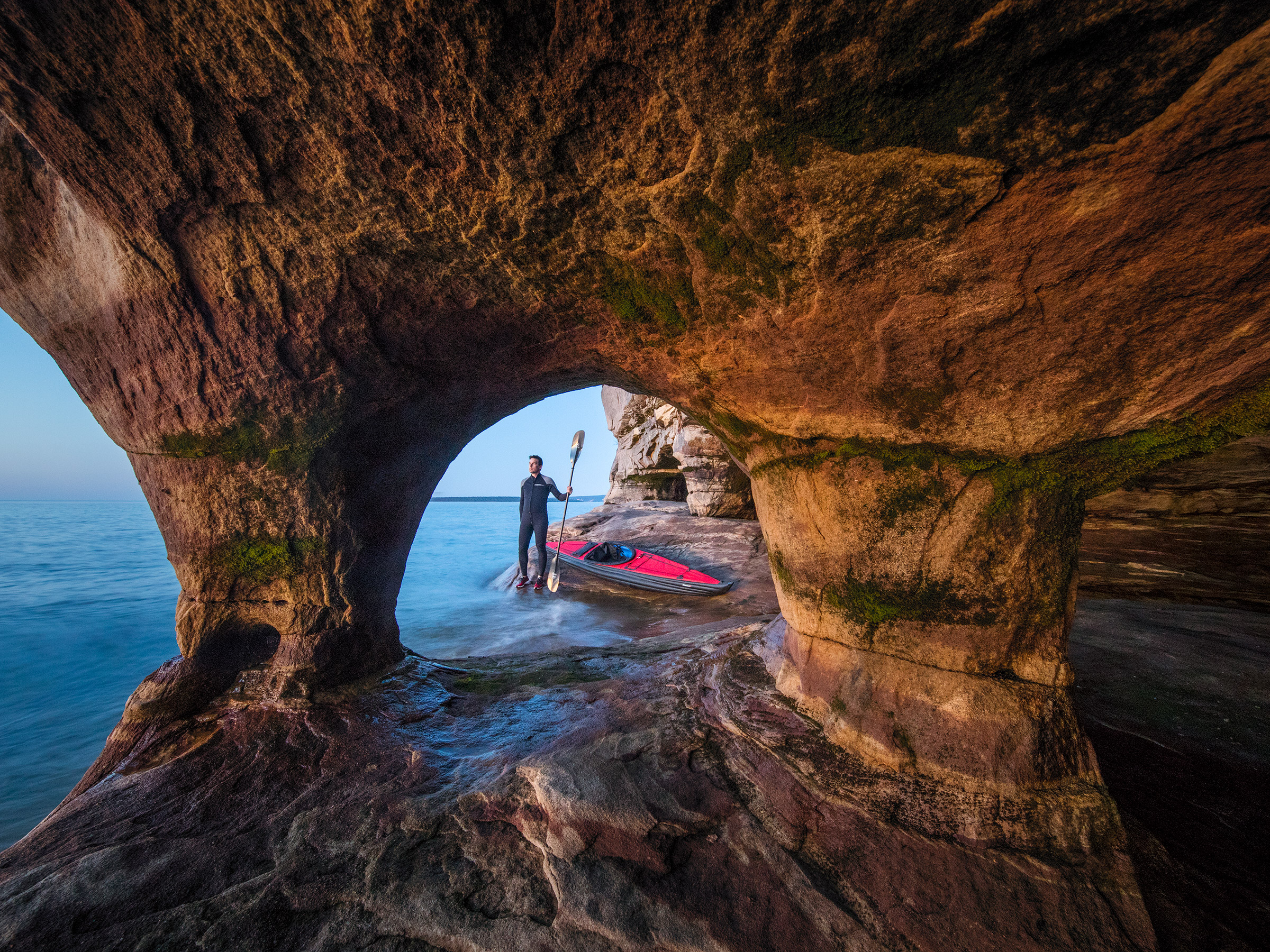 Hiawatha National Forest, USA. Canon 5DIV, Canon 11-24mm f/4 lens, ISO 3200, f/16, 0.8 seconds.

Get high to reveal shapes! And I don't mean by using recreational chemical additives. As you raise and "unflatten" your perspective, you will notice that shapes, especially those formed by objects on the ground, are increasingly revealed. This aerial photo is an extreme example: the crisscross shape of the trees along two intersecting roads becomes apparent only when

flying overhead in a helicopter. You typically don't have to get this high, however, to see how perspective changes shapes!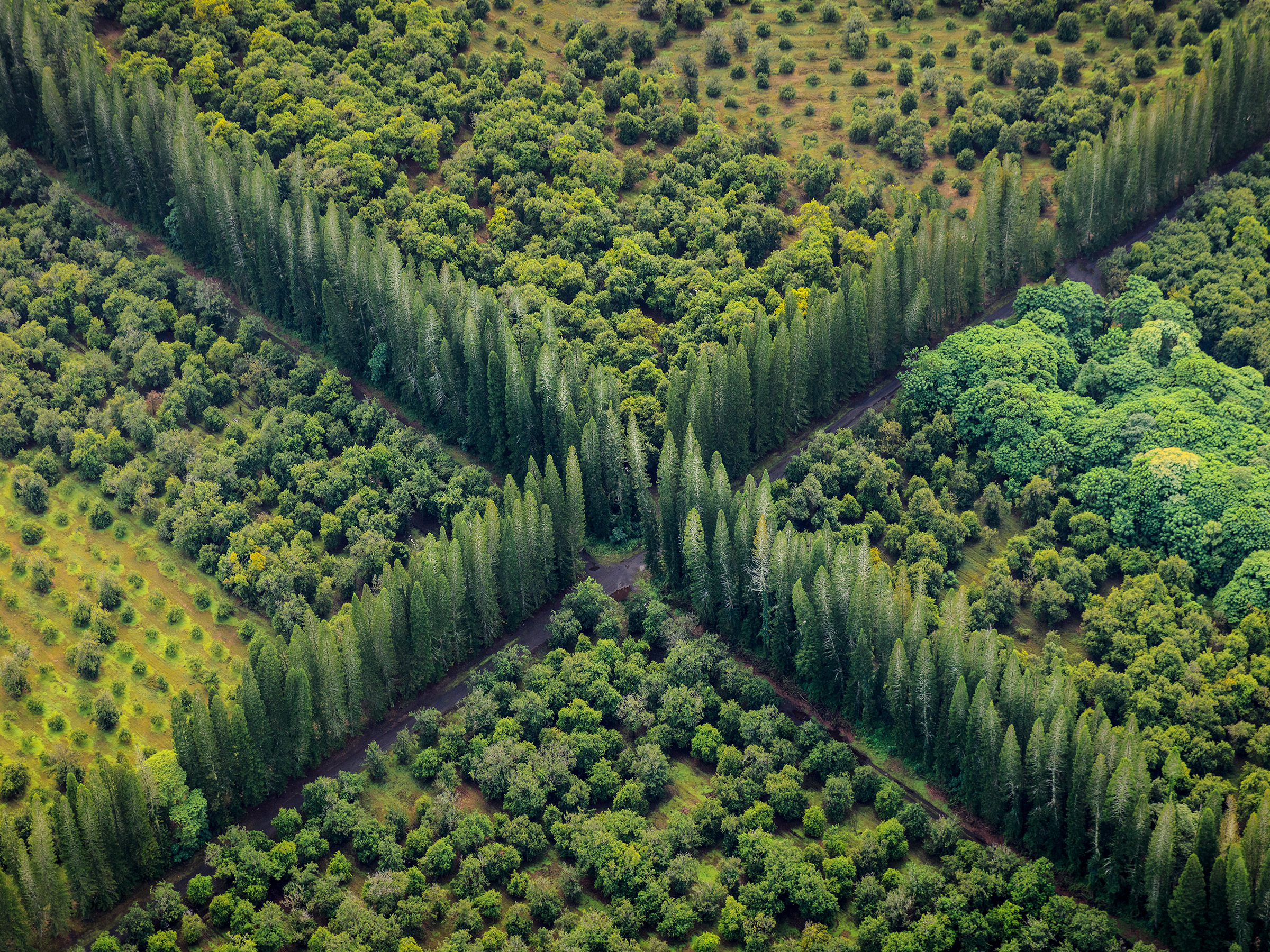 Hawaii, USA. Canon 5DSR, Canon 24-70mm f/2.8 lens, ISO 320, f/2.8, 1/500 second.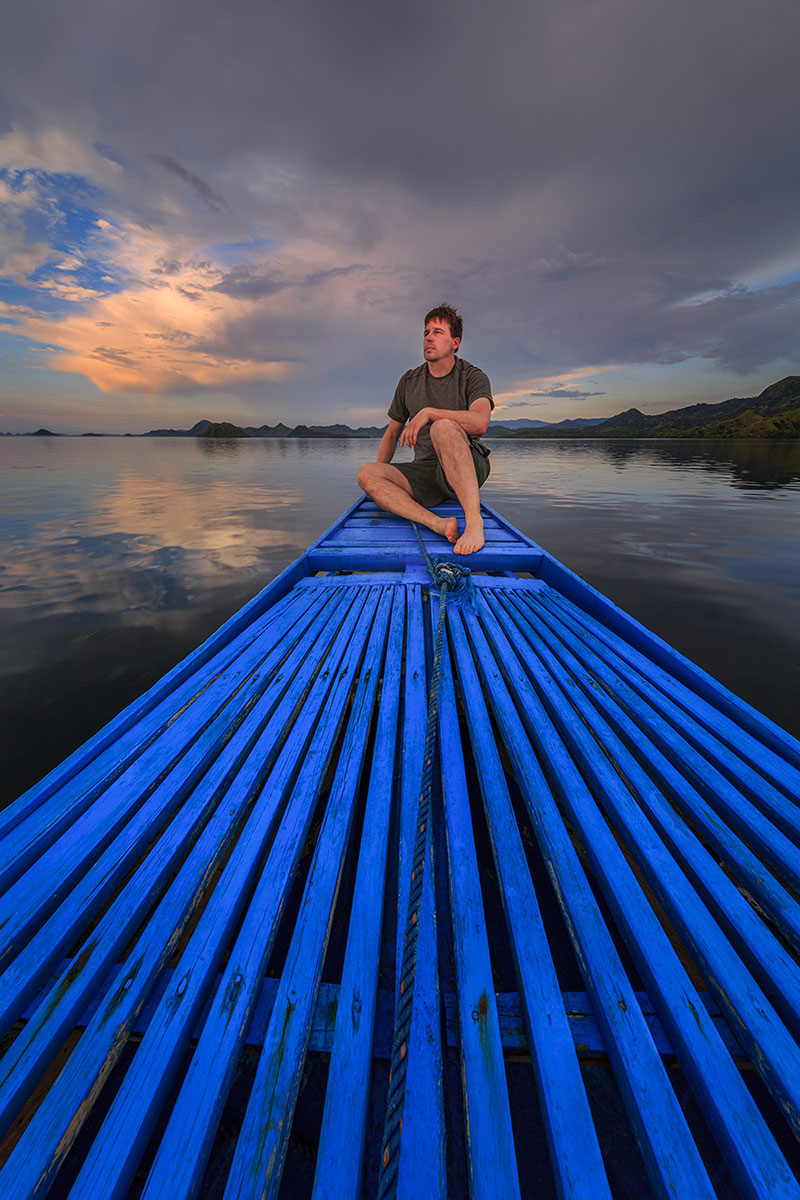 About the author: Managing Editor of Outdoor Photography Guide, world-renowned professional photographer and Tamron Image Master Ian Plant is a frequent contributor to leading photo magazines including Outdoor Photographer, Popular Photography, and Landscape Photography Magazine. You can see more of his work and download his free photography how-to eBook "Essential" at www.ianplant.com.
Ready for your next assignment? Here's what's coming up next:
Assignment 1: Lenses
Assignment 2: Exposure
Assignment 3: Perspective
Assignment 4: Focus
Assignment 5: Shutter Speed
Assignment 6: Supplemental Light
Not signed up yet for the Outdoor Photography Guide Photo Challenge? LEARN MORE HERE>>
This challenge is brought to you by: