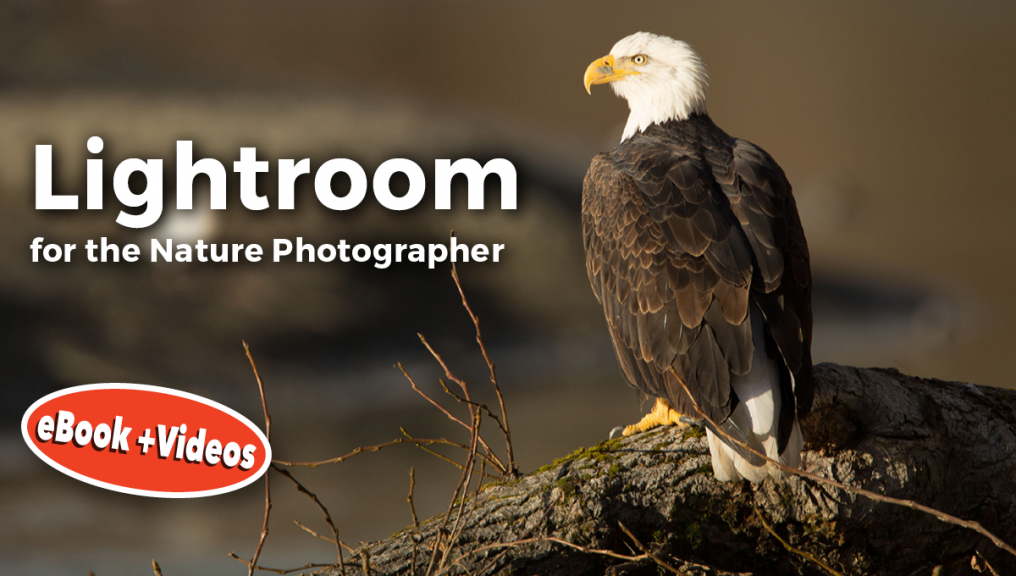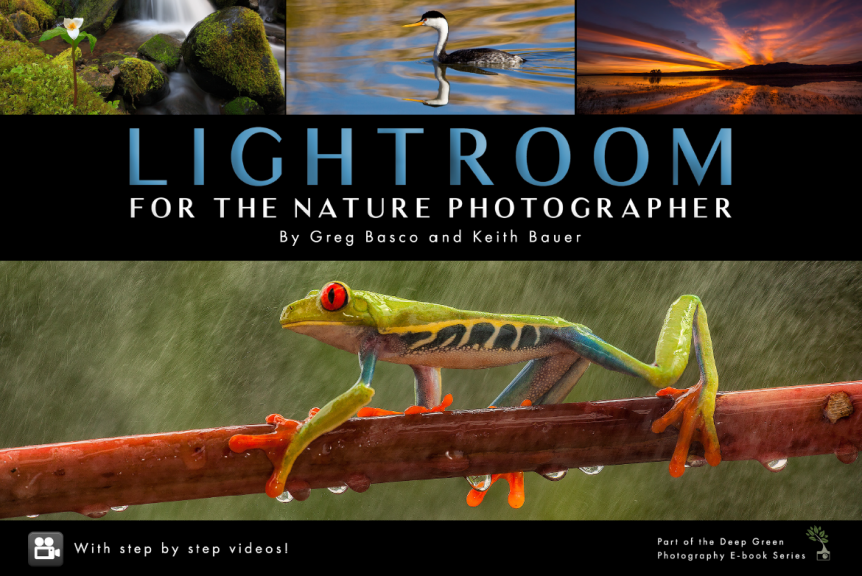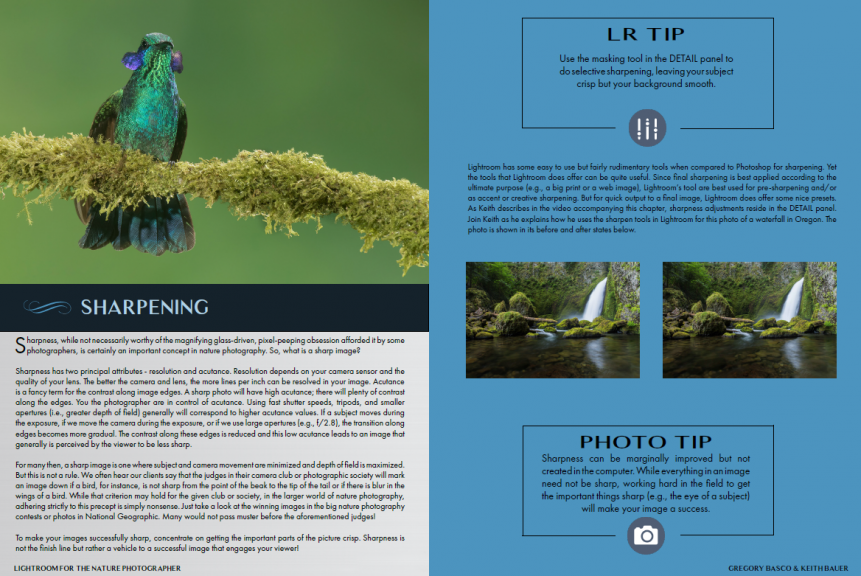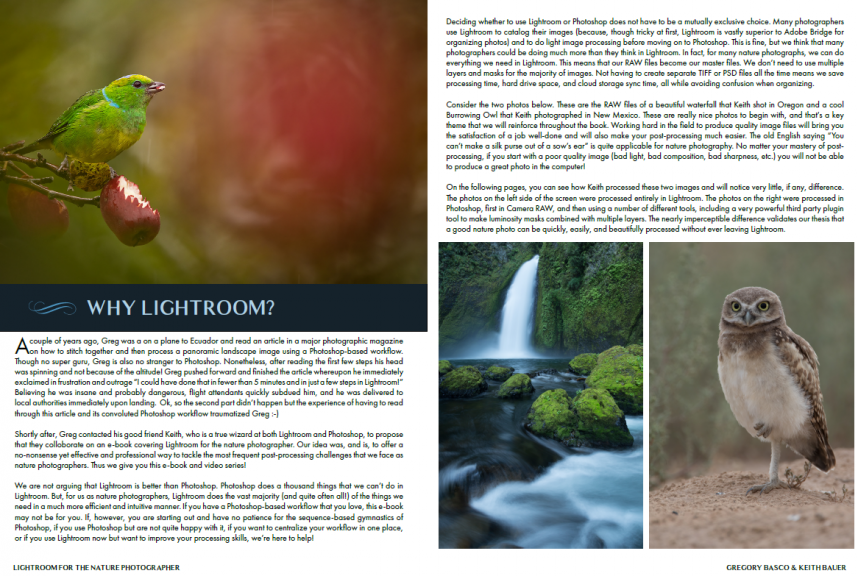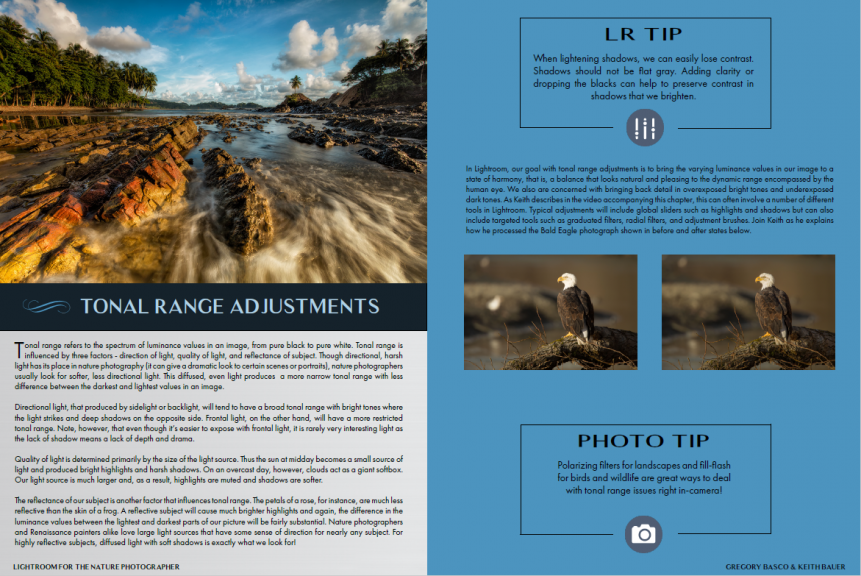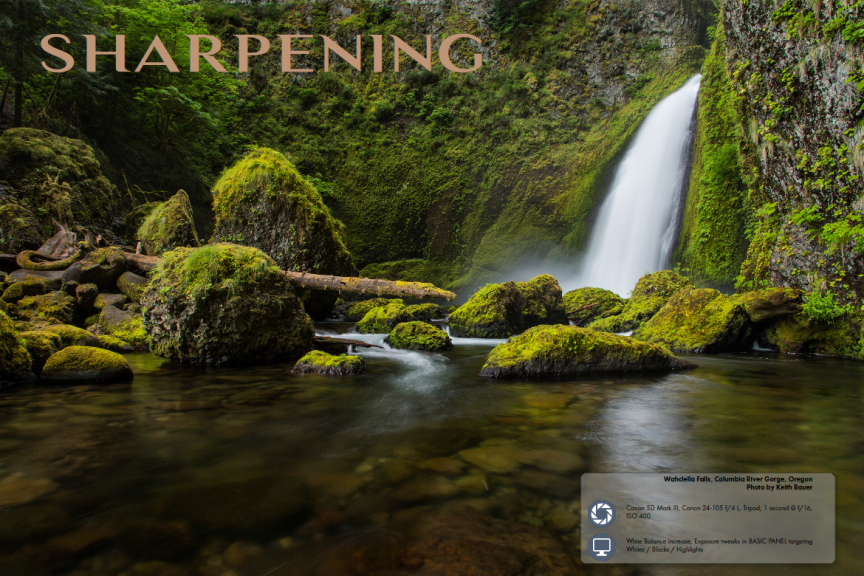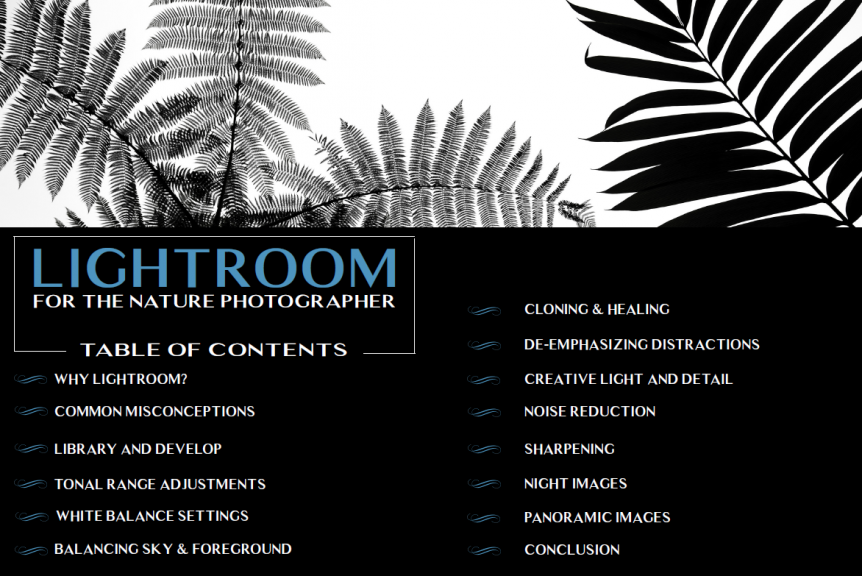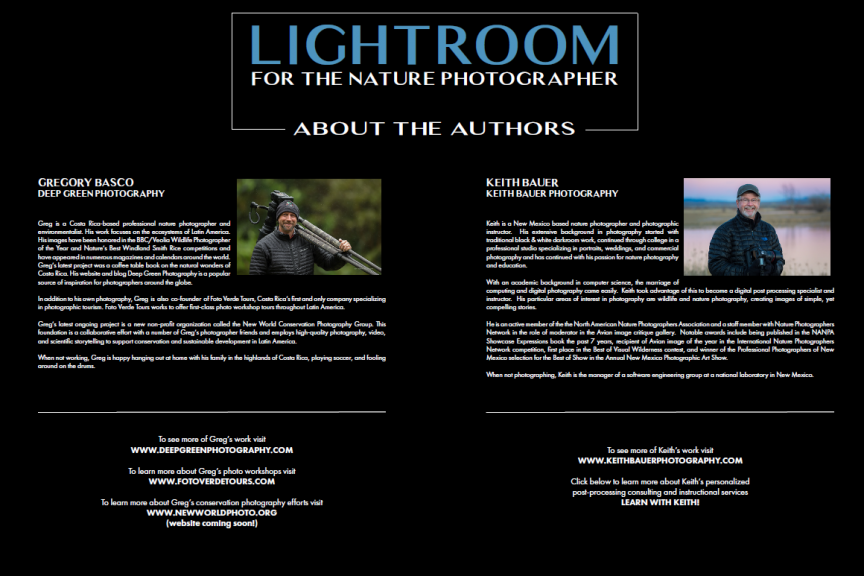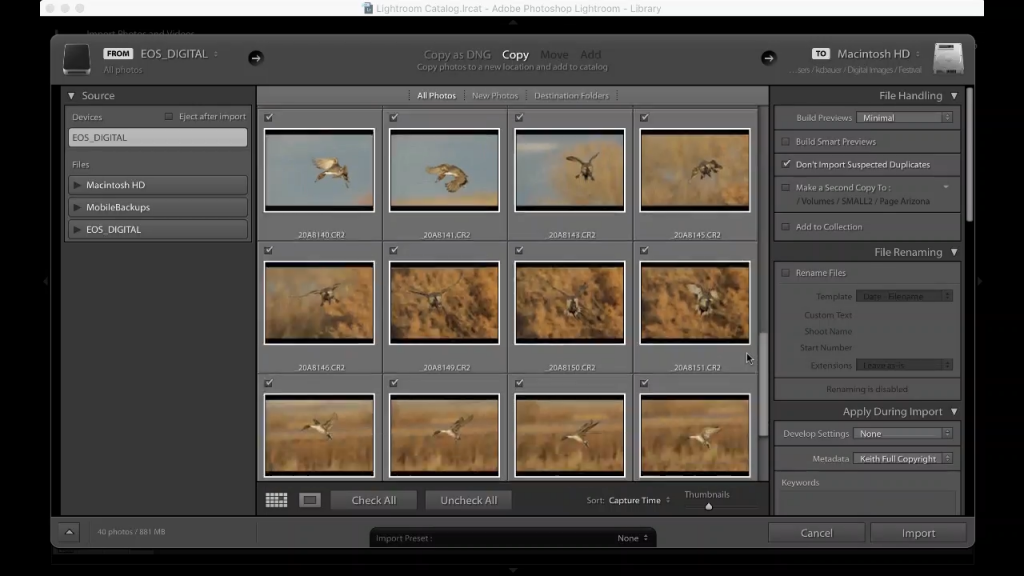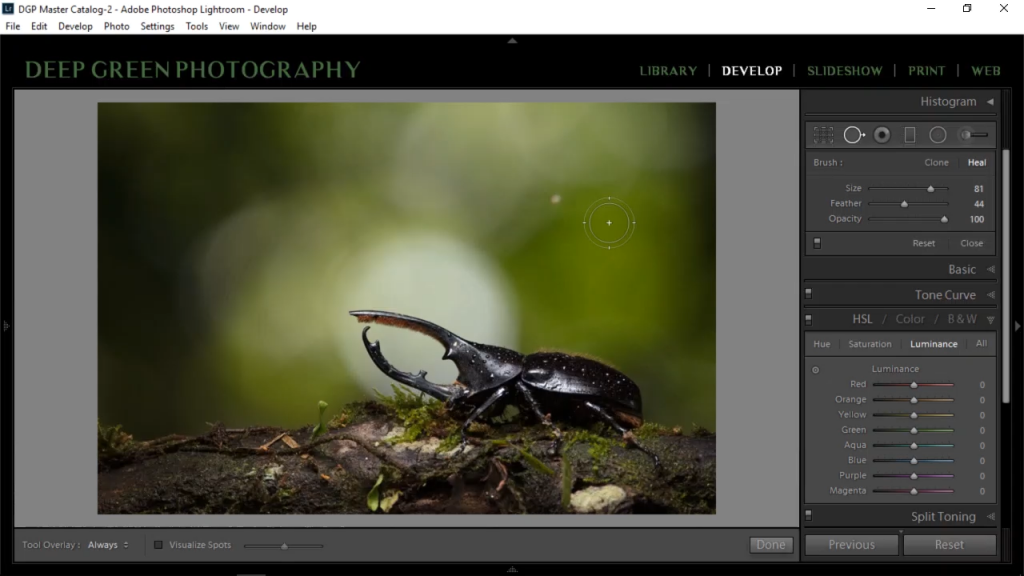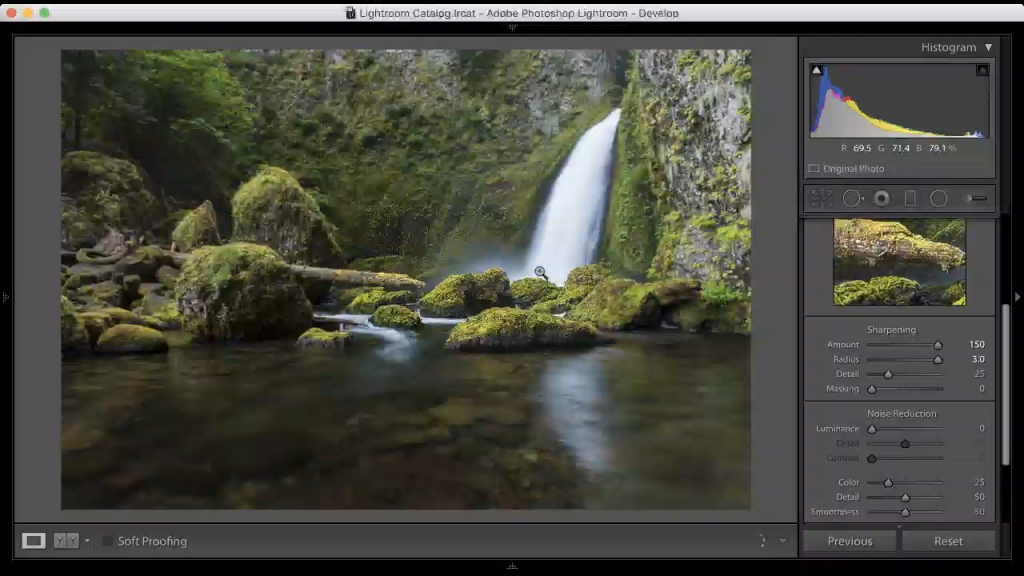 Lightroom for the Nature Photographer Bundle
This product is currently out of stock and unavailable.
B2009L
Description
Bundle: Lightroom for the Nature Photographer
Authors: Greg Basco and Keith Bauer
Are you are a photographer looking for a total image workflow solution? Do you want to improve your Lightroom prowess? Are you tired of the confusing, non-sequential gymnastics of Photoshop? Are you searching for a more efficient and intuitive workflow?
If you answered yes to any of these questions, then Lightroom for the Nature Photographer is the product for you!
With a carefully crafted PDF e-book and nearly 5 hours of video instruction, professional photographers Greg Basco and Keith Bauer get you started with Lightroom best practices and share their favorite processing techniques chosen specifically for nature photography. Lightroom offers a fantastic total workflow solution, and Greg and Keith have you covered from import to export!
Lightroom for the Nature Photographer covers these topics and more:
– Importing Images
– Library Module Overview
– Develop Module Overview
– Exporting Images
– Tonal Range Adjustments
– White Balance Adjustments and Creative uses
– Balancing Sky and Foreground
– Cloning and Healing
– De-emphasizing Distractions
– Creative Light and Detail
– Noise Reduction
– Sharpening
– Processing Night Images
– Panoramic Image Processing
What you get:
44-page Digital PDF eBook Download
4 Video Downloads totaling nearly 5 hours, consolidating 17 different specific video tutorials!
About the Authors:
Gregory Basco is a professional nature photographer based in Costa Rica. After completing graduate degrees in political science and tropical ecology, Greg worked in conservation before turning to photography full-time in 2006. His images have been awarded in the Veolia Wildlife Photographer of the Year and Nature's Best Windland Smith Rice competitions and have appeared in numerous magazines and books around the world.
Greg is also co-owner of Foto Verde Tours, Costa Rica's first travel company specializing in photographic tourism. Foto Verde Tours focuses on Costa Rica but is expanding its instructional photo workshops throughout Latin America, including Panama, Peru, Ecuador, Chile, Colombia, and Argentina.
Keith Bauer is a New Mexico-based nature photographer and photographic instructor. His extensive background in photography started with traditional black & white darkroom work, continued through college in a professional studio specializing in portraits, weddings and commercial photography and has continued with has passion for nature photography and education.
With an academic background in computer science, the marriage of computing and digital photography came easily. Keith took advantage of this to become a digital post processing specialist and instructor. His special areas of interest in photography are wildlife and nature photography, creating images of simple, yet compelling stories.
Keith has won multiple awards in the NANPA Annual Showcase and is a staff member with Nature Photographers Network in the role of moderator in the Avian image critique gallery.