Death Valley National Park, which lies in California's vast Mojave Desert, is often thought of as a desolate, unforgiving place. This perception does not tell the full story of this place since this desert is actually quite full of life. Still, Death Valley's landscape is harsh and sometimes unforgiving. In developing a portfolio of this park, I wanted to tell a range of stories, including photos like this one that convey some of the darker and more difficult aspects of experiencing this landscape as a hiker and photographer.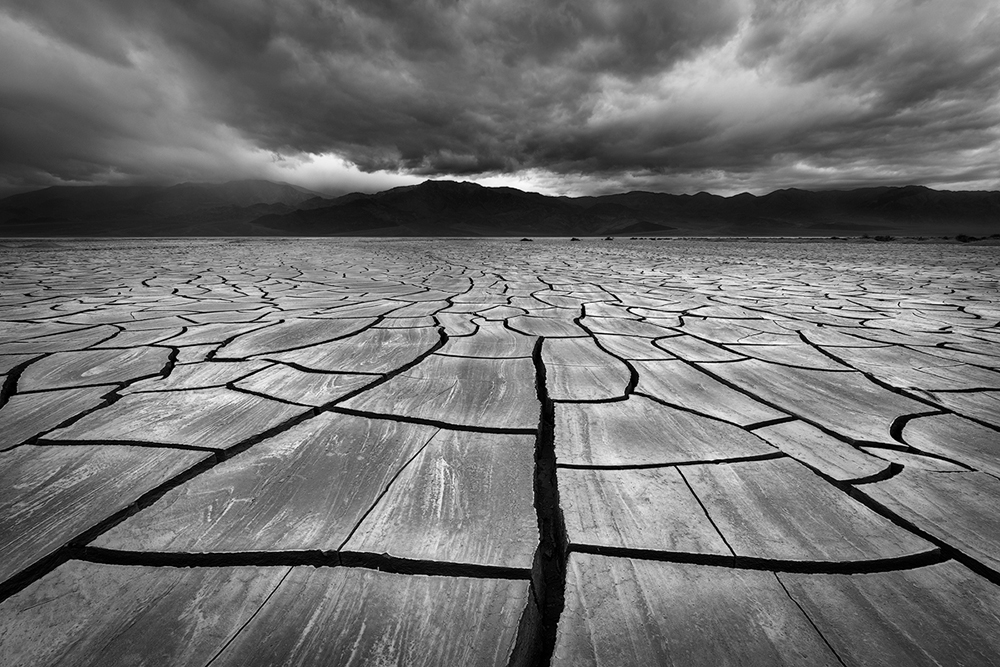 Canon 6D, 16-35mm @ 16mm, f/16, 1/30 sec, ISO 100, no filters.
In October 2015, a massive rainstorm caused devastating flooding across the park, creating extensive mudflows in some areas. These new expanses of mud offer an opportunity to help tell one story about Death Valley – the way the park is shaped by dramatic weather events, how the landscape can change dramatically in a very short period of time, and how the very dry desert environment transforms wet flowing mud into an expanse of fascinating cracks. For this photo, I wanted to share a bold and dramatic view of this location, something that I think I do best through black and white photography. Since I wanted to emphasize darkness and drama, an incoming rainstorm – with its foreboding clouds – provided an excellent complement to the expansive cracks shown in the foreground of this photograph.
Related eBook: Desert Paradise: The Landscape Photographer's Guide to Death Valley National Park
The Composition
When photographing grand landscapes, I consider myself a bit indecisive when it comes to composition. I often try a multitude of options in the field so that I can see what works best when I am ready to process photographs from a particular outing. In this case, however, this particular composition met all of my goals for this scene without the need to experiment with different variations (which is good because a heavy rainstorm was starting as I was photographing this spot).
The lines and shapes in the mud are bold compositional elements, which I exaggerated even more by getting very low to the ground with a wide angle lens. When seen as abstract compositional elements, the cracks serve as strong leading lines from the foreground to the background. The repeating shapes in the foreground also add some structure and order to the composition. These are two qualities that I like my photographs to embody but can be difficult to find in a chaotic environment like this expanse of mud. Thus, scouting to find a deliberate arrangement of mud tiles is an essential compositional step for me. The shape of the clouds also mirrors the shape of the foreground elements, with a subtle V in the clouds and a more dramatic V in the foreground. This mirroring is another element that helps bring cohesion to this composition.
Related article: How to Use Leading Lines to Create Compelling Landscape Photos
Technical Notes
This photo was simple to capture in terms of camera technique. With few dark shadows and no bright highlights, I could easily capture this scene in a single exposure. I used a small aperture (f/16) for depth of field to help ensure that both the foreground and background are in sharp focus. For this scene, the aperture was the most important exposure variable, so kept my ISO low at 100 and selected the shutter speed necessary for a properly exposed photo. For photos like this, I almost always use a tripod so I can carefully fine-tune my composition and ensure sharpness at slower shutter speeds.
Approach to Processing
As you can see in the RAW file below, the mud at this location was a soft brown color. At twilight on clear days, this mud takes on a nice glow and on days with colorful clouds in the sky, the mud reflects some of the colors in the sky. I took this photo during the middle of the day and the mud looked quite brown, which to me is less attractive for color photography than other times of the day. With the bold elements of the composition, the drama of the storm clouds, and the less appealing color of the mud, I knew when I took this photo that it would likely end up in my collection of black and white photographs.

Thus, all of my processing work on this photograph focused on converting and optimizing the scene in black and white. This primarily involved increasing the tonal contrast across the scene and then emphasizing specific elements to help meet my goals. For example, I used local adjustments to enhance the textures in the foreground mud tiles to add visual interest. I also darkened the cracks to help them serve as stronger leading lines.
Finally, I spent time adjusting some of the tones in the sky, both to add drama and to balance the natural lighting in the scene. Since I see my black and white photography as a creative pursuit, making these kinds of changes helps me express my goals for this scene in a way that I sometimes cannot with color photography.
If you have any questions about the creation or processing for this photograph, please let me know in the comments.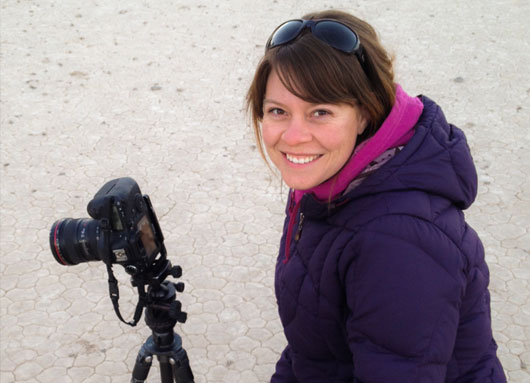 About the author: Based in the Rocky Mountain West, photographer Sarah Marino travels the country in a 25-foot Airstream trailer with husband and fellow photographer Ron Coscorrosa. Together they produce high-quality educational photography e-books and other nature photography resources. You can view more of Sarah's work and read her travel stories at www.naturephotoguides.com.
Have something to add to the story? Leave a comment or email editor@outdoorphotographyguide.com.