In my last article on photography composition, I discussed ways to use three primary subjects to create powerful compositions. And although I have a bit of a soft spot in my heart for three, two subjects can be just as compelling, if you know how to do it right. Compositions with two subjects give you opportunities to capture interesting behavioral interactions when working with animals or people, and lend themselves to simple yet bold designs no matter what type of subject you are working with. Simply put, there are certain things you can't do with just one—and furthermore, sometimes three's a crowd!
Related article: Photo Composition Tip: Three is a Magic Number
Related article: Photo Composition Tip: One (Is the Loneliest Number)
In the immortal words of Rob Base and DJ E-Z Rock, "It takes two to make a thing go right. It takes two to make it outta sight." Or, put another way: two can often be the perfect number when you are looking to create dynamic compositions.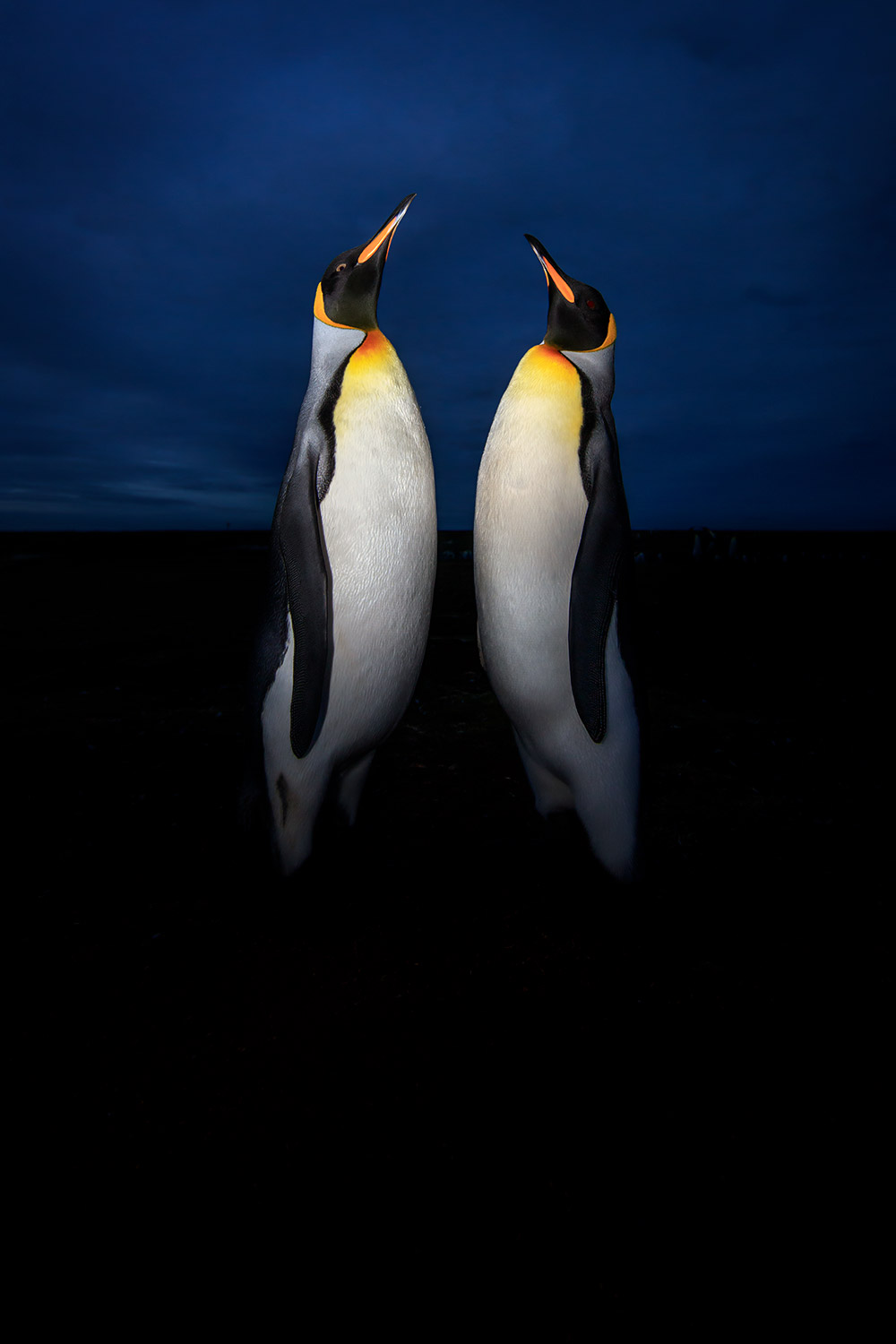 These two king penguins offered me an almost perfectly symmetrical pose, so I crept in close with my wide-angle lens. I used flash at low power (-3 flash compensation) to illuminate the penguins, and deliberately underexposed the overall image (setting my exposure compensation to -1) to capture just a hint of the darkening night sky in the background. Canon 5DSR, Canon 11-24mm f/4 lens, flash, ISO 400, f/4.5, 1/60 second.
Two subjects create opportunities for dynamic interaction.
When two things get together, opportunities arise that just don't exist when you have only one subject—especially when your two subjects are animals or people! Be on the lookout for interesting interactive behavior, such as fights, a predator chasing its prey, moments of greeting or affection, tenderness between a mother and child, and a whole host of other photogenic activities.
For the photo below, I watched for several minutes as two young jackals played together on the Kalahari plains. I waited for the moment of peak interaction between the two before triggering the shutter, when the two jackals were facing each other with their mouths wide open.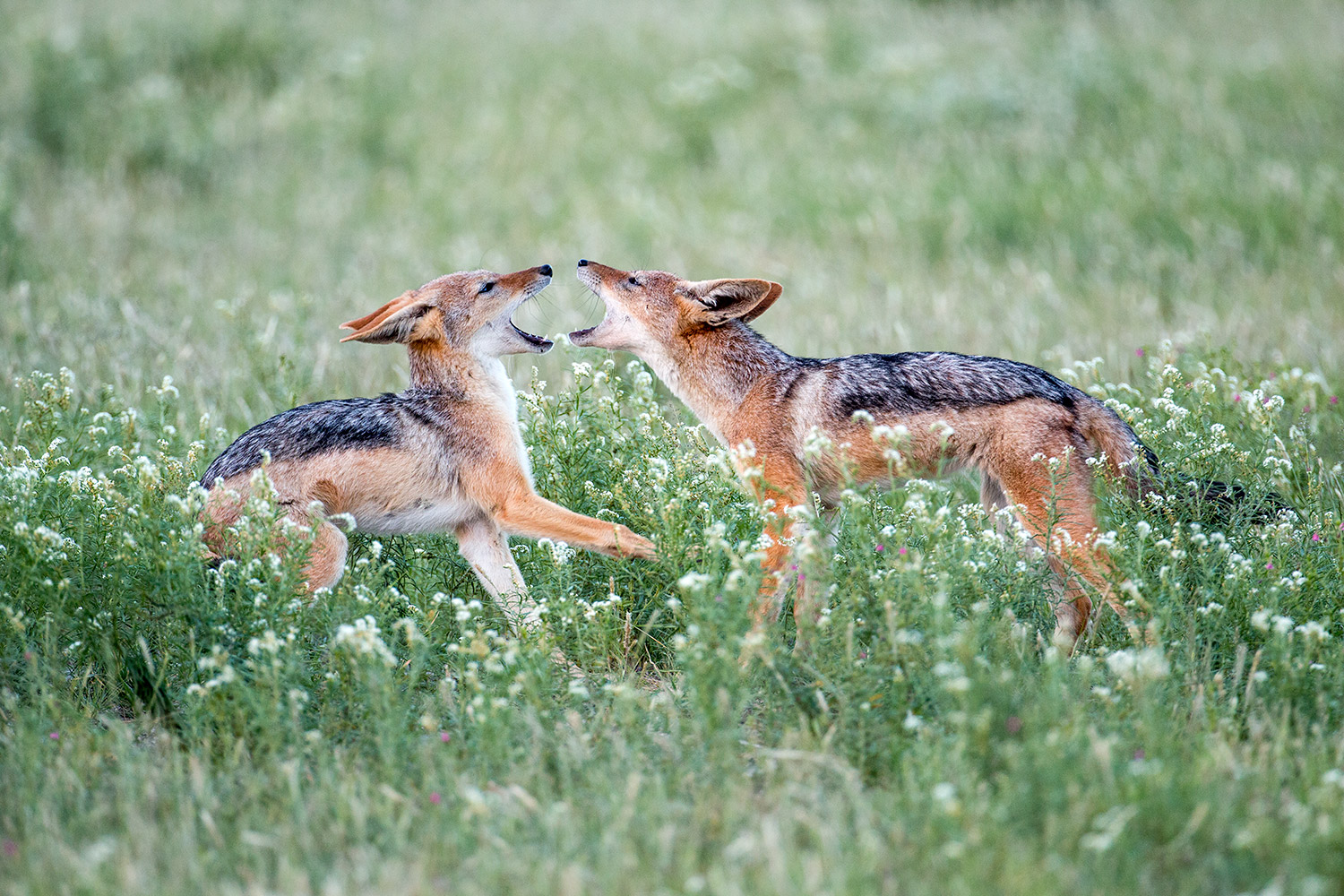 Two young jackals nip at each other, creating a moment of partial symmetry. Capturing a peak moment of interaction can be critical when working with two subjects, so shoot in continuous mode so that you don't miss the action, and keep your finger on the shutter! Central Kalahari Game Reserve, Botswana. Canon 70D, Canon 200-400mm f/4 lens with built-in 1.4x extender, ISO 800, f/4, 1/320 second.
Two similar subjects can be used to create symmetry.
When you have two similar subjects facing off, you have an opportunity to use symmetry as the basis of your composition. The symmetrical treatment of visual elements can bring balance to your visual design, but be careful—too much symmetry can sometimes render your composition somewhat static and uninteresting. When working with symmetrical compositions, keep in mind this simple but effective tool: look for ways to break up the symmetry. Any element that diverges from the symmetrical pattern will automatically become a strong focal point for the viewer, immediately attracting attention and therefore helping to create visual energy.
For this photo below of scarred elephant seals battling for dominance on the shore, I waited for the moment when both seals reared fully up, their jaws agape. One seal, however, is a bit taller than the other, breaking somewhat the symmetry of the composition. Also, the diagonal lines formed by the colorful clouds in the background further disrupt the symmetry, making the composition much more dynamic.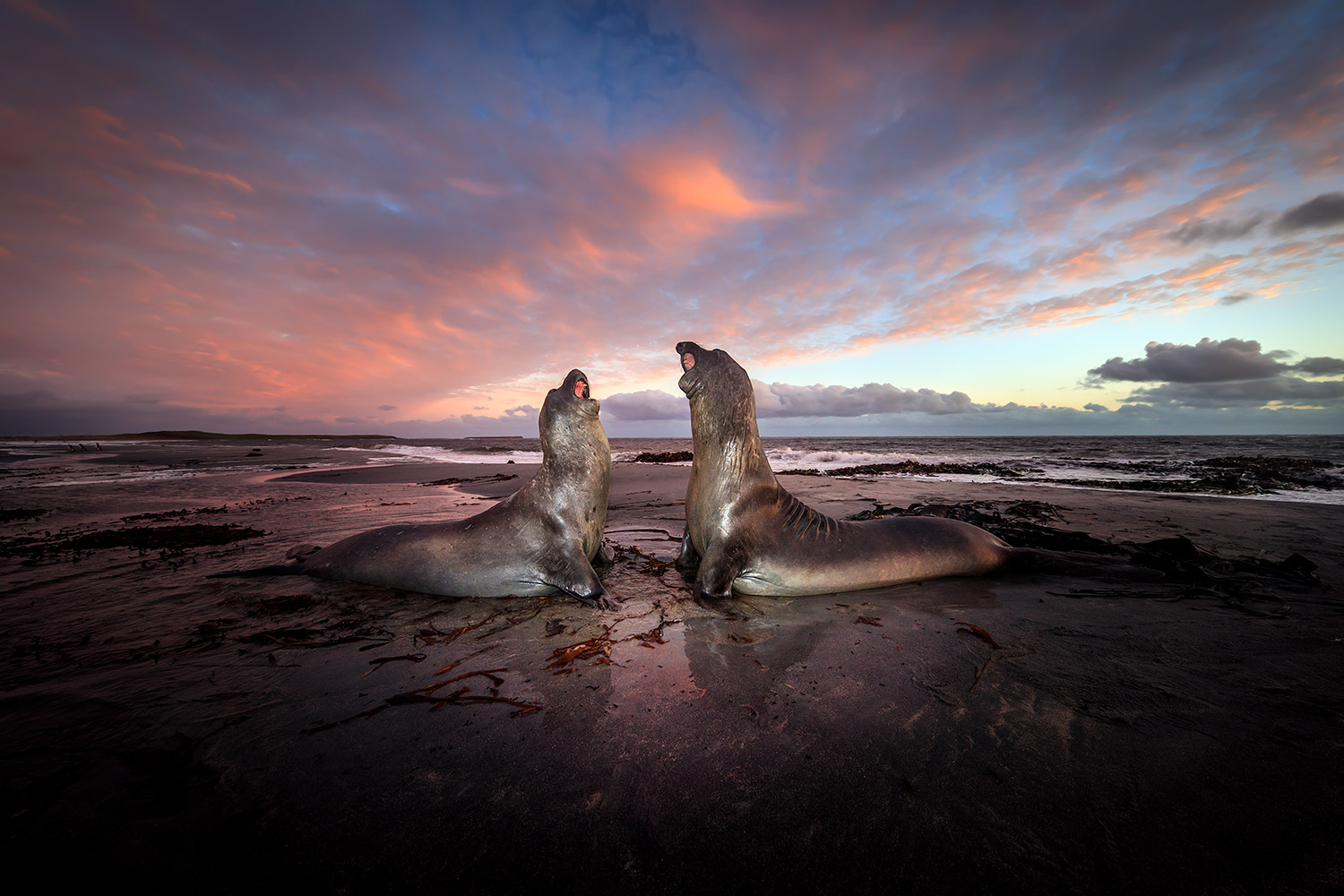 A pair of bellicose elephant seals sparring at sunset on a beach in the Falkland Islands. I used flash at low power to gently illuminate the seals against the colorful sky. Canon 1DXII, Canon 11-24mm lens, ISO 400, f/5.6, 1/160 second.
Look to juxtapose two subjects in a counterpoint relationship.
Visual counterpoint occurs when one element of a composition is set up in contrast with another. Counterpoint is a way of positioning two subjects within the image frame, relying on the spatial relationship between visual elements to create compositional structure and interest. I find that counterpoint usually works best when the two visual elements are juxtaposed in a diagonal relationship.
For example, with the photo below, the foreground bear is (mostly) in the lower left of the image frame, with the background bear in the upper right. This creates an energetic visual relationship between the two elements, forcing the viewer's eye to bounce back and forth and therefore prolonging and enhancing interest in the composition (which is a good thing).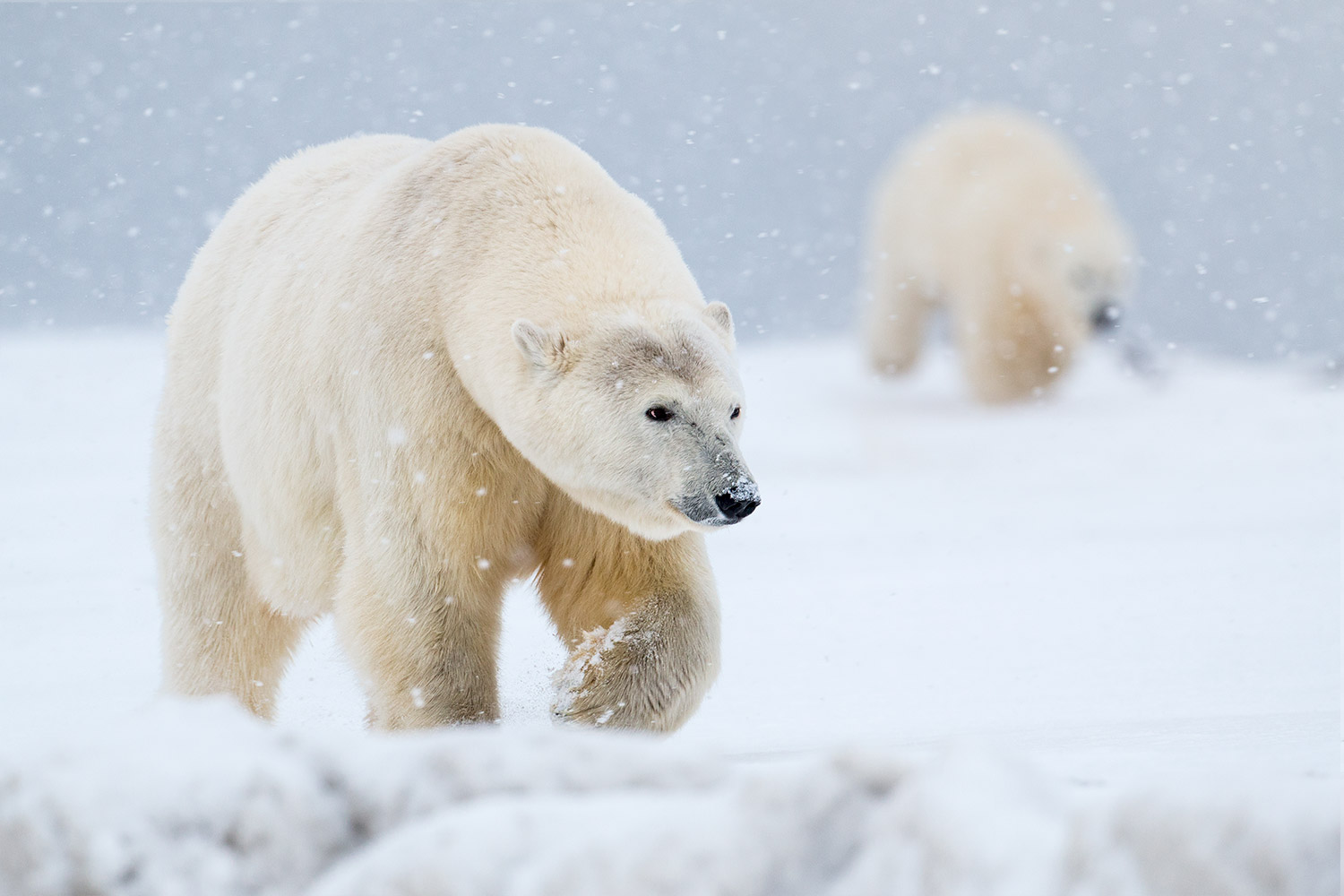 The polar bear in the background serves as a visual counterpoint to the bear in the foreground, creating a balanced yet dynamic composition. Arctic National Wildlife Refuge, USA. Canon 70D, Canon 200-400mm f/4 lens with built-in 1.4x extender, ISO 500, f/4.5, 1/640 second.
Conclusion
Learning how to effectively work with two subjects requires an understanding of the concepts of symmetry and counterpoint, which lend themselves to simple yet graphic compositions. Also, when photographing two living subjects, be on the lookout for opportunities to capture interesting behavioral interactions.
Want to learn more?
If you are interested in taking your photos to the next level, then check out Visual Flow, my critically acclaimed eBook/video bundle on photographic composition. This is a great resource, but don't just take it from me – here's what others have said about it:
"Ian Plant has done the best job I have seen in explaining the secrets of good composition." —Landscape Photography Magazine
"Visual Flow is one of the most comprehensive e-books I've ever read on the topic of composition. In fact, I would say this book might completely revitalize your photography." —PhotoWhoa
"Ian Plant's eBook Visual Flow: Mastering the Art of Composition belongs on the digital bookshelf of every serious photographer." —PhotographyTricks.com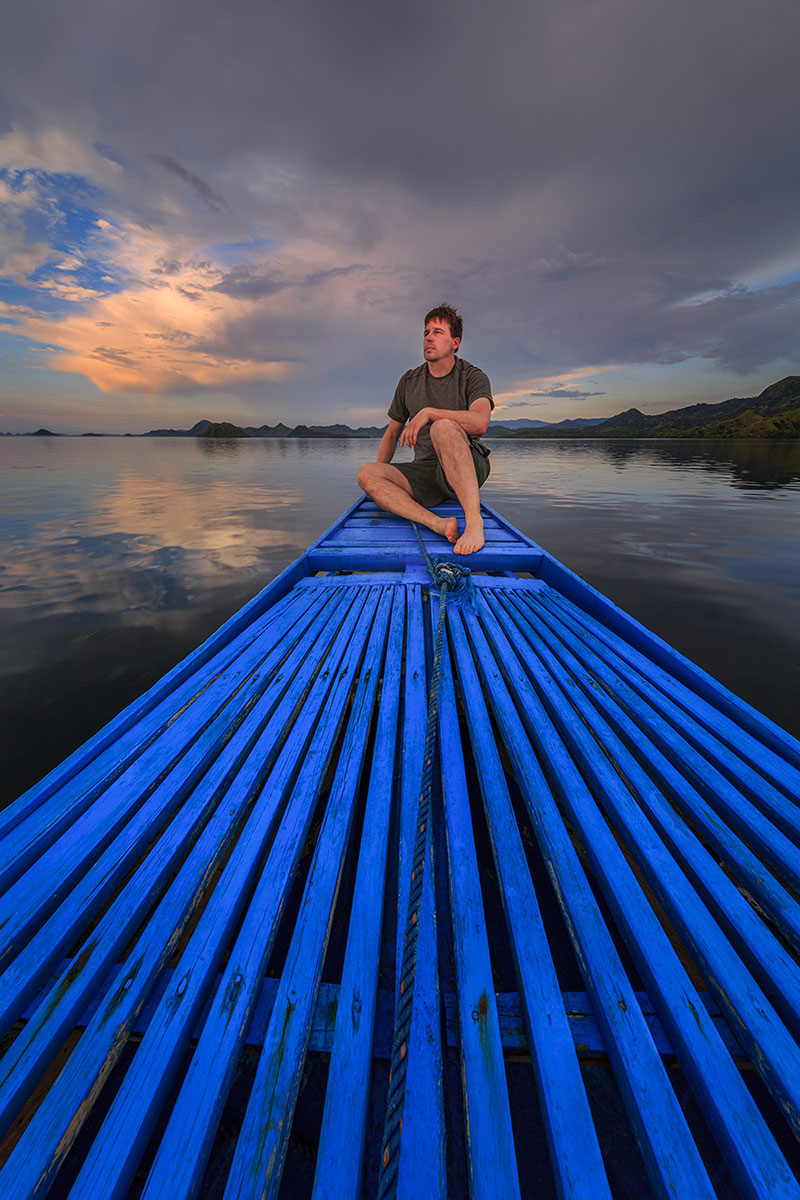 About the author: Managing Editor of Outdoor Photography Guide, world-renowned professional photographer, and Tamron Image Master Ian Plant is a frequent contributor to leading photo magazines including Outdoor Photographer, Popular Photography, and Landscape Photography Magazine. You can see more of his work and download his free photography how-to eBook "Essential" at www.ianplant.com.
Have something to add to the story? Leave a comment or email editor@outdoorphotographyguide.com.