More and more photographers are taking to the sea to visit island destinations like Svalbard, Greenland, and the Galapagos. Antarctic tourism in particular has surged in recent years, with over 44,000 people visiting the frozen continent in the 2016-2017 summer season—and almost all of them by ship. Ships provide access to remote landscapes and a stunning array of marine species including polar bears, sea otters, penguins, and seabirds.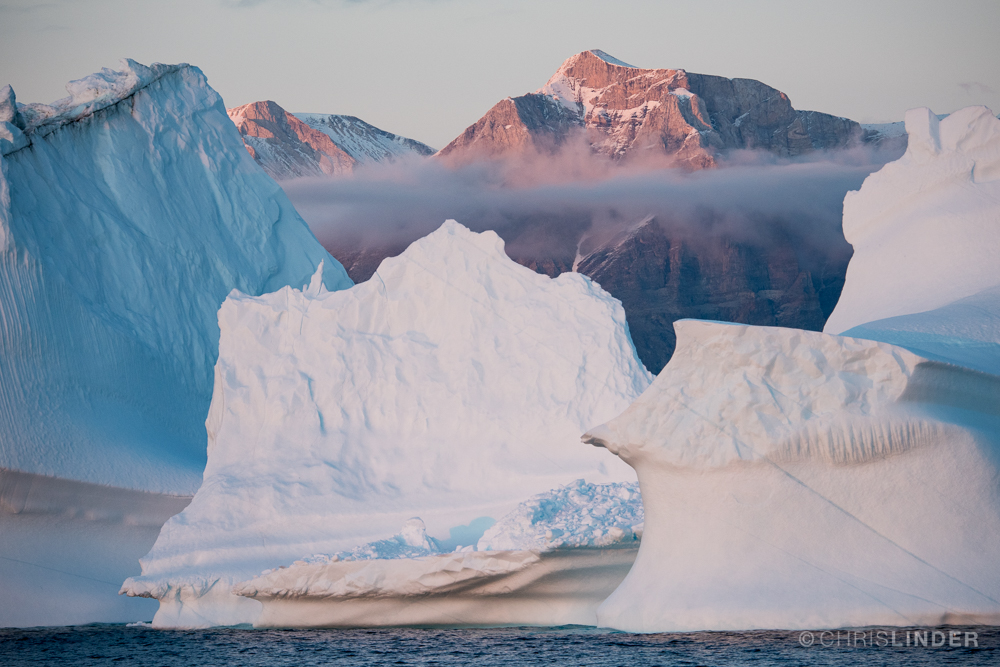 Ships are the only way to access some off-the-beaten-track places like the fjords of Greenland. Nikon D810, Nikkor 80-400mm lens, 1/500s @ f/5.3, ISO 800. However, photographing from ships has its own unique set of challenges, especially in regard to carrying, stabilizing, and protecting your equipment. Being properly prepared can mean the difference between taking home an award-winning shot and having a truly miserable time.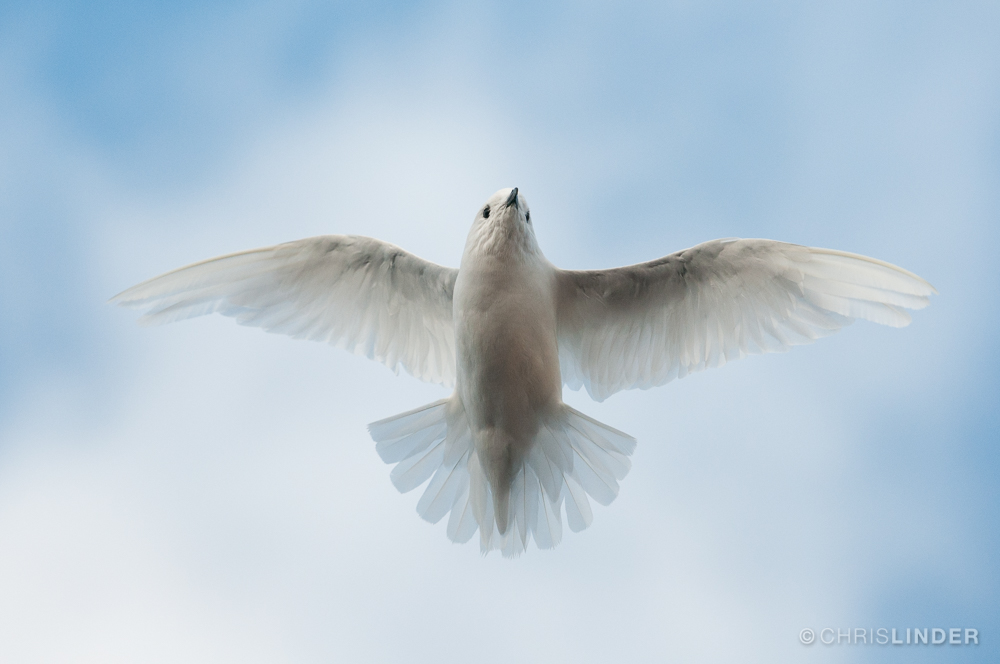 Snow petrel in flight, Ross Sea, Antarctica. Seabirds are often attracted to ships. Nikon D300s, Nikkor 70-200mm f/2.8 lens, 1/5000s @ f/4.0, ISO 320. I've been messing about in boats my whole life. As a kid growing up in Wisconsin, I floated down creeks in an inner tube and bow hunted for carp from a canoe. I graduated to larger vessels at the U. S. Naval Academy, where my training included piloting sailboats and 100-foot long Yard Patrol craft. As an oceanographer for the Woods Hole Oceanographic Institution, I worked aboard research vessels from the high Arctic to Belize. For the last 20 years, I have worked as a freelance science and natural history photographer, covering over 50 research expeditions, many aboard ships. I now also lead shipboard photography tours to places like Greenland for Visionary Wild, on which I share insights gleaned from my many years of photography at sea.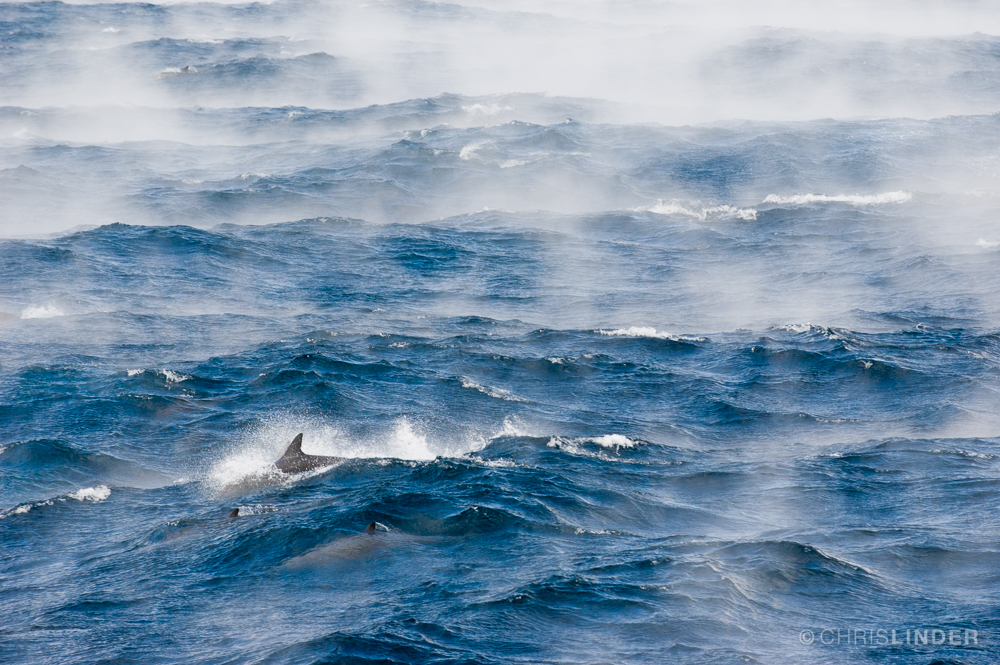 Common dolphins off Cape Hatteras, North Carolina in winter. As a science photographer, I have worked on boats as small as a Congolese pirogue and as big as an icebreaker. Nikon D70, Nikkor 70-200 f/2.8 lens, 1/400s @ f/6.3, ISO 320.
Boats Big and Small
The first thing to consider when preparing for your trip is the size of the vessel, because this will dictate what bags and protective covers you will pack. In many cases you'll be preparing for several different scenarios, as it is common for larger vessels to also use zodiacs for excursions and putting ashore. Ask questions before you join a tour: how long is the ship? How will you be transported to shore? How many clients will travel together on zodiacs? What is the weather like that time of year? The more you can anticipate the likely weather and sea conditions, the better prepared you will be to capture those fleeting moments—and be comfortable doing it.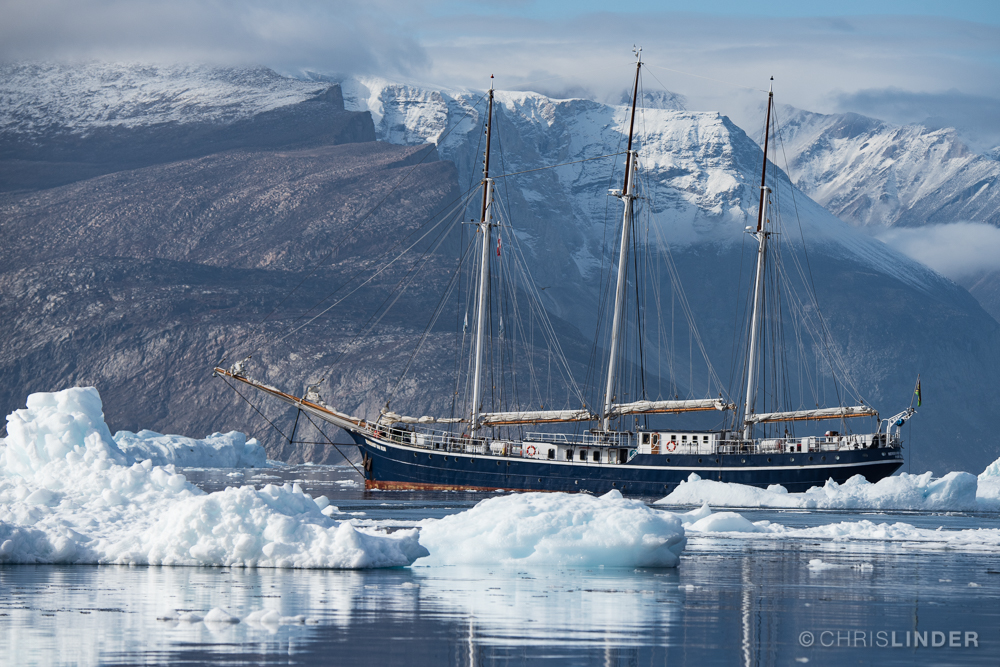 Shipboard photography tours use a variety of vessels. In Greenland, we charter the 3-masted schooner Rembrandt van Rijn for small-group photography workshops. The boat is not only a great platform for photography, but an incredible subject as well! Nikon D810, Nikkor 80-400mm lens, 1/2000s @ f/8.0, ISO 320.
Carrying Your Gear
On ship-based expeditions, I use a small backpack to carry my equipment (I prefer the ones that are narrow across the shoulders so I don't get wedged in narrow doorways) or a ThinkTank camera holster and beltpack system. Currently, I am using the 'Backlight' series of backpacks from MindShift Gear. Not only are they narrow in width, but they also allow you to rotate the camera bag in front of you and access the contents without putting it down on the deck. On smaller vessels like zodiacs, you may be shooting in close quarters, often elbow-to-elbow with other photographers. If I'm photographing from a zodiac, I carry two camera bodies on neck straps: one with a telephoto zoom like a 70-200mm or an 80-400mm, and another with a 24-70mm lens. Don't make the mistake of bringing your entire lens arsenal on zodiac rides—you will waste valuable time and shots changing lenses (not to mention running the risk of exposing the inside of your camera to sea spray). However, if I'm riding the zodiac on a transit to a shore excursion, I will take my small backpack and have a single body and lens around my neck for shots of opportunity.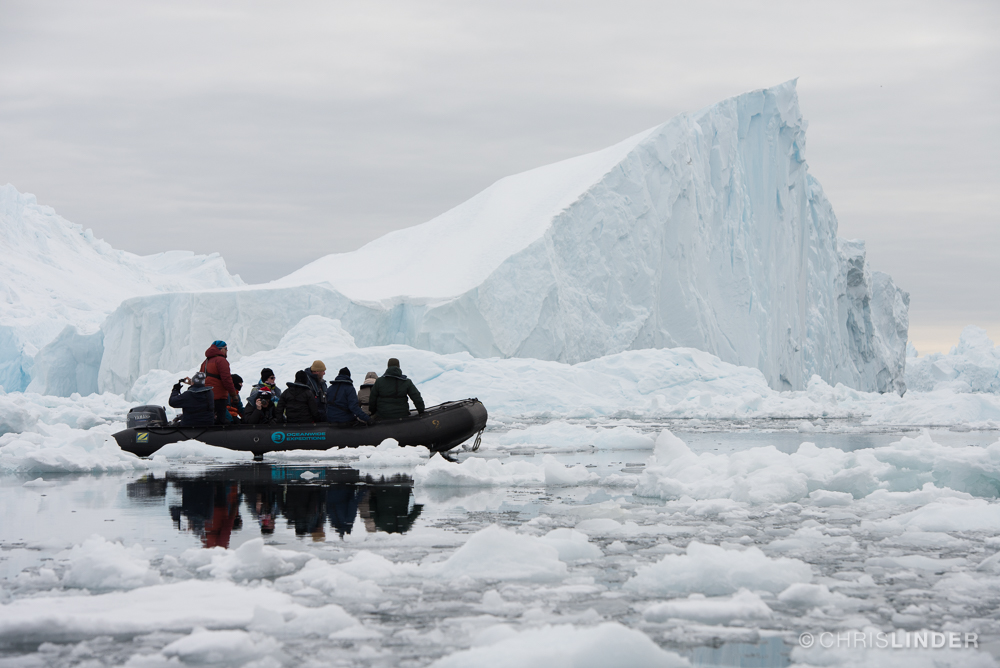 In the ice, west Greenland. Most shipboard photography tours use zodiacs to get close to subjects like icebergs or for putting ashore. Nikon D610, 70-200mm f/2.8 lens, 1/1600s @ f/8.0, ISO 400.
Protecting Your Equipment
There are hundreds of different options for protecting your camera from the damaging effects of splashes and salt spray, ranging from a humble shower cap to an underwater housing costing thousands of dollars. The tricky thing about protective covers or wraps is to find one that provides the right amount of protection without being too onerous to put on or shoot with. You are less likely to need a cover for your camera if photographing aboard a large passenger liner or icebreaker—these ships are generally extremely stable in all but the worst storms. When working on a smaller ship or a zodiac, unexpected wave splashes and salt spray are much more likely. In this case, I use small, lightweight camera covers made by Vortex Media. They are available in multiple sizes and have two cinchable openings—one for the lens hood/body and one for the back. Cinch it tight over the hood (and yes you are definitely using a hood) and leave the back opening wide enough to see the eyepiece and monitor. This kind of cover allows you to access all of the camera controls directly but protects the lens and the front and top of the camera. This solution is not 100% splash proof, so if you start taking waves, stow the gear. I carry lightweight waterproof roll-top bags from Outdoor Research for this purpose. I also use clear glass protective filters on all of my lenses when the sea spray is flying. If a camera or lens gets salty, wipe it down with a damp towel (moistened with fresh water) afterwards. To clean the front elements of my lenses, I use a soft cotton towel to soak up the water and then polish away streaks with a pre-moistened lens wipe or a LensPen.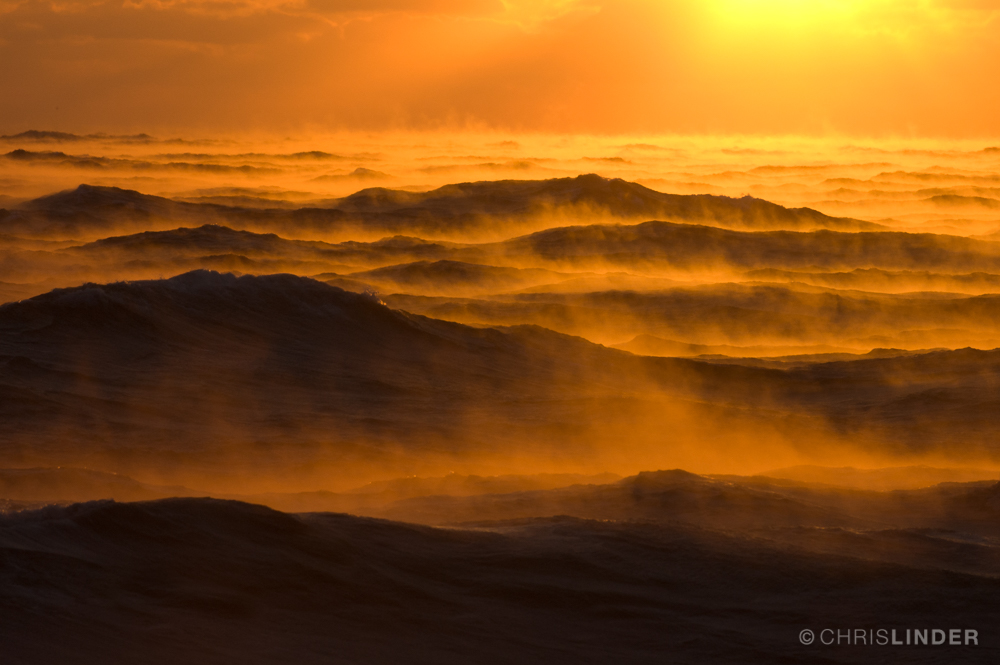 Sea smoke at sunset, Atlantic Ocean. These were some of the roughest seas I have ever experienced. When the sea spray is flying, use a camera cover. Nikon D70, Nikkor 70-200mm f/2.8 lens, 1/1250s @ f/5.0, ISO 320.
Stabilizing Your Camera
Nearly all of my shipboard photographs are shot handheld. The human body is an excellent shock absorber, damping out vibrations from both the ship's engine and waves. Handholding also allows you to quickly adjust ever-changing compositions on the fly. It is critical to use proper handholding technique: that means elbows pinned to your body, one hand cradling the lens from beneath, and the other holding the camera body. If the waves are rough, keep your legs apart and knees bent so you're not thrown off balance by an unexpected wave. It is certainly possible to use a tripod, and I always pack one. Since the ship is moving relative to the environment, I use a tripod primarily to photograph the ship itself. A tripod also allows you experiment with slower shutter speeds, such as blurring the waves or ice the ship is traveling through. When working on vessels with limited space along the rail, remember to be considerate of fellow passengers and make sure your tripod does not become a trip hazard.
I used a small Gitzo tripod in the bow of this pirogue and a slow shutter speed to give this photograph a sense of motion. Canon 5D Mark II, Canon 16-35mm f/2.8 lens, 0.3s @ f/18, ISO 100. Stay tuned for my next shipboard photography article on Outdoor Photography Guide—I will share more tips including camera settings and image composition. If you want more hands-on instruction in a breathtaking setting, join me in East Greenland on a 3-masted schooner this September: Visionary Wild Workshop: Greenland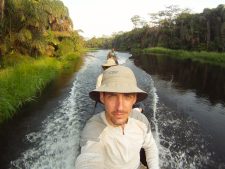 Chris Linder is a professional science and natural history photographer. A former naval officer and oceanographer, Chris now focuses on communicating the stories of scientists working in extreme environments. He has documented more than 50 scientific expeditions from the Congo to Siberia and has spent over two years of his life exploring the polar regions. Chris's images have appeared in museums, books, calendars, and international magazines. He is the author of the hardcover book Science on Ice: Four Polar Expeditions and was the lead cinematographer for the documentary film Antarctic Edge: 70° South. He has been recognized with awards from the Veolia Environnement Wildlife Photographer of the Year, Nature's Best Photography Windland Smith Rice International Awards, and International Conservation Photography Awards competitions. When he's not riding an icebreaker or flying in a helicopter over Greenland, Chris loves to share his experiences with the public. Chris is an accomplished, dynamic presenter and photography workshop leader. You can see more of his work at www.chrislinder.com and join him on tours through https://visionarywild.com/.
You may also be interested in:
Meet the Photographer: Chris Linder
Tips for Airline Travel with Photography Equipment
Things to Consider When Travelling Internationally for Photography