Everyone knows you should get a clear view of your subject when making a photograph, right? Well, sometimes the clearest view isn't always the best view. Instead, try "shooting through" objects to frame your shot and get a stronger composition. This can be a fun technique to work with – you might find yourself in some interesting positions like lying on the ground or climbing trees to get the perfect shot. Anything you can do to get that ideal composition!
In your next assignment for the Outdoor Photography Guide Photo Challenge, you're going to explore shooting through elements in nature to capture a unique and interesting shot. What those elements are is only limited by your imagination! Read through this post for specific tips and creative ideas for shooting through, and make sure to check out the inspiration gallery below.
But first, watch this video for some words of advice on shooting through from this week's guest expert, Greg Basco:
Remember to join the Photo Challenge Facebook Group to share your shots from this week's assignment!
Tips for shooting through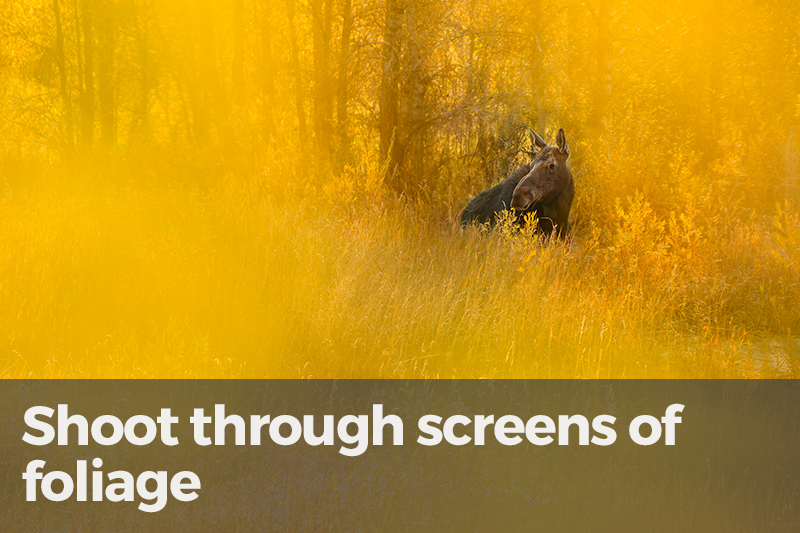 One of my favorite "shooting through" strategies is to get really close to a clump of colorful leaves, find a small gap in the foliage, and shoot a subject through the gap with a telephoto lens set to its widest aperture. This will render the surrounding foliage as a pleasingly out-of-focus abstract blur of color. Care must be taken to ensure that the subject is (more or less) free from obstruction. Also, it is important to have the blurred foliage frame the subject in an interesting way. I used this technique for a female moose lying on the forest floor; here, shooting through transformed an otherwise dull subject into something colorful and eye-catching. This strategy works best with longer lenses; with wide angle lenses you have more depth of field, making it difficult to render the nearby foliage as pleasingly blurred. Photo by Ian Plant. Grand Teton National Park, USA. Canon 5DIII, 70mm, ISO 200, f/2.8, 1/640 second.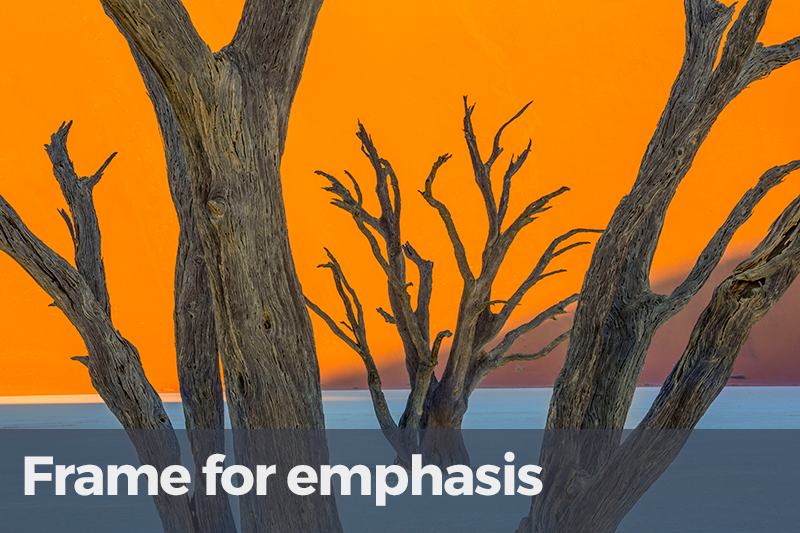 Here, I emphasized a distant dead tree by shooting it through a frame created by the branches of a nearby tree. In this case, I stopped down for depth of field in order to render all parts of the scene as sharp. Photo by Ian Plant. Namib-Naukflut National Park, Namibia. Canon 5DIII, 123mm, ISO 100, f/22, 1/6 second.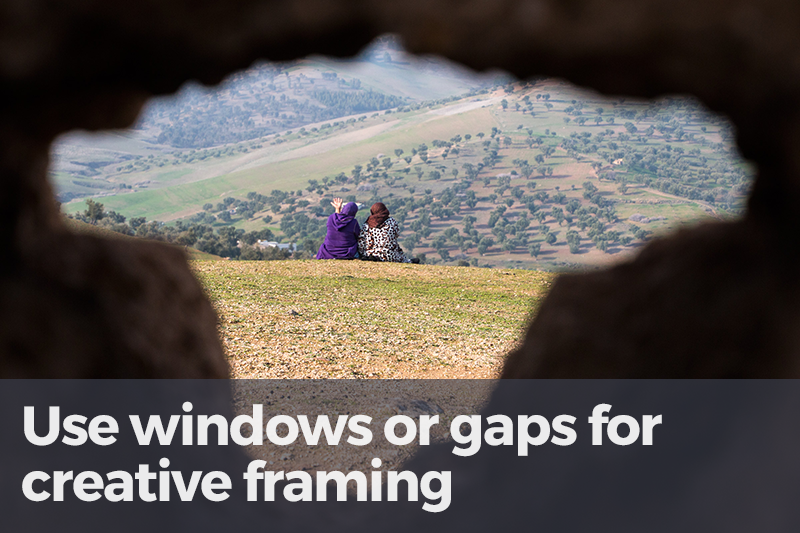 For this photo I crept into some old ruins, finding an opening in the stone looking out at two women overlooking the valley below. I didn't even try to retain focus in the framing stone, setting my focus on the women instead and using a small aperture to minimize depth of field. Photo by Ian Plant. Fes, Morocco. Canon 70D, 46mm, ISO 200, f/5, 1/1250 second.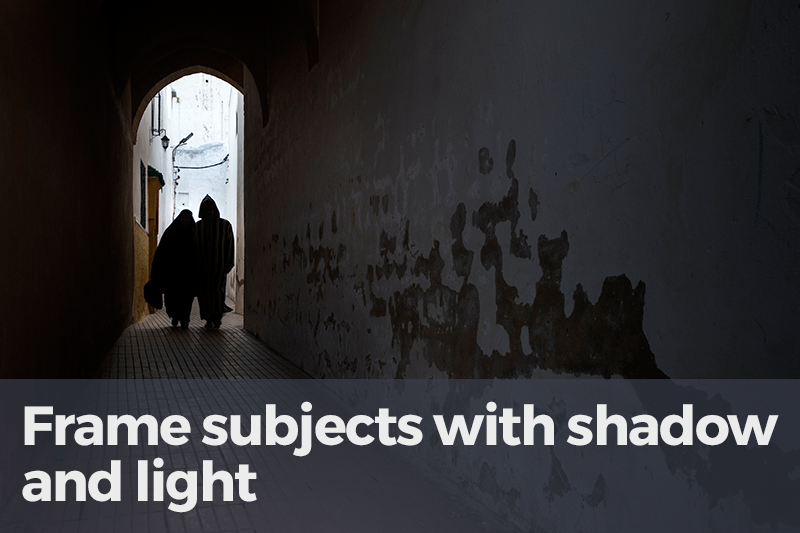 For this photo I used the dark archway to frame the couple walking through the alley. I waited for the perfect moment when they were juxtaposed against the bright background, rendering the couple in a silhouette. Photo by Ian Plant. Sale, Morocco. Canon 70D, 66mm, ISO 100, f/9, 1/20 second.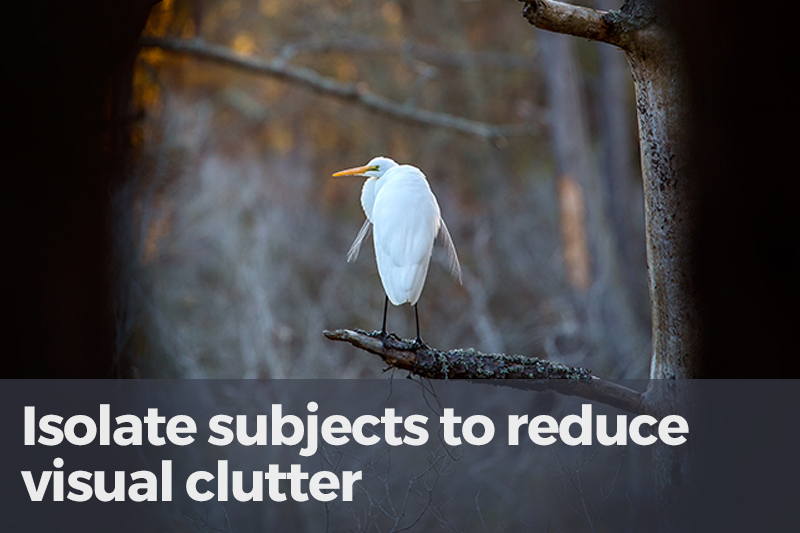 This great egret was perched in a chaotic forest, so I shot the bird through a small gap between two tree trunks, only inches apart. The result simplified the composition, putting visual emphasis on my main subject. Photo by Ian Plant. Chincoteague National Wildlife Refuge, USA. Canon 5DIII, 200mm, ISO 400, f/2.8, 1/4000 second.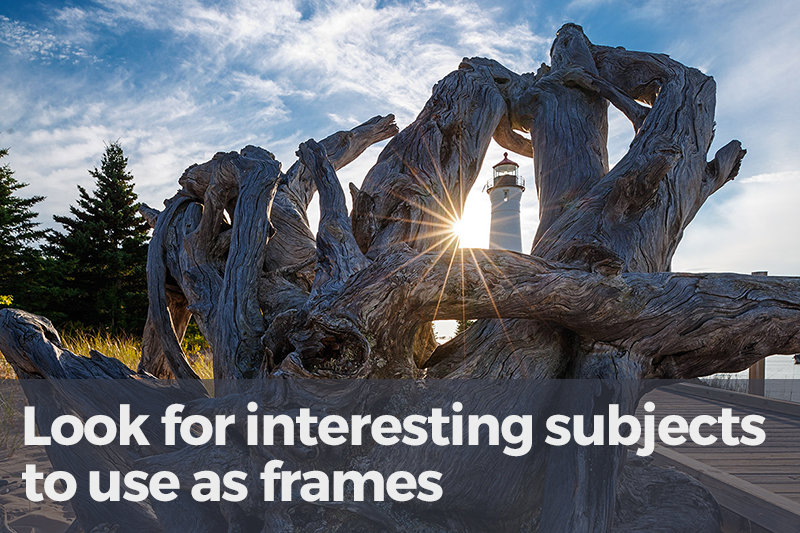 I decided I liked these sun-bleached roots of a dead tree more than my subject, an old lighthouse on the shore of Lake Superior. So I framed the lighthouse just as an accent to the overall composition. It was difficult finding an angle that allowed me to include both the lighthouse and the sun, but it was worth the effort and the final result is far more interesting than either a photo of the lighthouse or of the roots alone. Photo by Ian Plant. Crisp Point Lighthouse, USA. Canon 5DIII, 15mm, ISO 100, f/13, 1/40 second.
Inspiration gallery by Greg Basco