Join us on our Outdoor Photography Guide 9-day scenic tour in Kenya! Come along with OPG contributor and professional photographer David Johnston on this once-in-a-lifetime experience combining amazing sightseeing, 8 safari game drives, amazing photo opportunities and the unique experience of traveling with fellow photographers.
9 Day Kenya Tour Package Includes:
Round-trip international airfare from New York City to Nairobi, Kenya.
Private coach and driver in Nairobi.
Comfortable and safe safari vehicles with only four guests per vehicle.
8 extraordinary safari game drives and amazing photo opportunities.
An optional night safari game drive.
Photography workshop with OPG professional photographer David Johnston.
A daily photography enhancement chat with our OPG professional photographer David Johnston.
Entrance fees into the 110,000-acre Ol Pejeta Conservancy.
Professional safari driver/guides available for assistance and information.
First-class hotel accommodations in Nairobi.
Accommodations at a deluxe tented camp.
Daily Breakfast and welcome dinner in Nairobi.
Farewell dinner at the world-famous Carnivore Restaurant in Nairobi.
City tour of Nairobi and morning shopping at a local artisan co-op facility.
An optional visit to David Sheldrick Elephant Orphanage.
Tour of Karen Blixen's home made famous by the movie "Out of Africa."
A behind the scenes tour of the Kazuri Bead Factory to photograph artisans.
A visit to world-famous Giraffe Center to see the endangered Rothschild Giraffes.
An up close and personal photography experience with local weavers and spinners.
A visit to a local grade school for an unbelievable encounter with the school children. Amazing photography opportunities!
A visit to a chimpanzee sanctuary.
An optional "bush dinner and campfire" under the stars with Masai dancers.
A special Equator Line demonstration and photograph opportunity.
A Craftours lanyard, luggage tag and commemorative gift.
All taxes are included, and insurance is highly recommended.
Kenya Highlights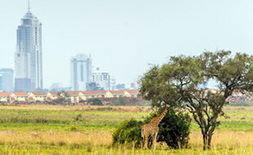 Nairobi
Nairobi is Kenya's capital city. In addition to its urban core, the city has Nairobi National Park, a large game reserve known for breeding endangered black rhinos and home to giraffes, zebras and lions. Next to it is a well-regarded elephant orphanage operated by the David Sheldrick Wildlife Trust. Nairobi is also often used as a jumping-off point for safari trips elsewhere in Kenya.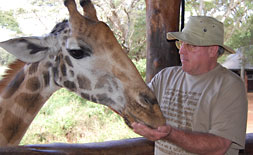 Nairobi Giraffe Center
The Giraffe center was set up by Leslie Melville to protect the endangered Rothschild giraffe. Here you will get to meet these amazing creatures face to face.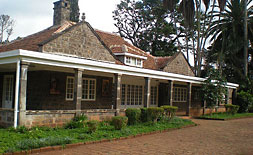 Karen Blixen Museum
Karen Blixen Museum was once the centerpiece of a farm at the foot of the Ngong Hills owned by Danish Author Karen and her Swedish Husband, Baron Bror von Blixen Fincke. Located 10km from the city center, the Museum belongs to a different time period in the history of Kenya. The farm house gained international fame with the release of the movie "Out of Africa", an Oscar winning film based on Karen's an autobiography by the same title.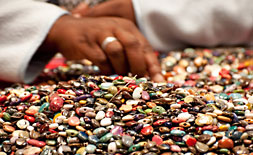 Kazuri Bead Factory
Kazuri are beautiful, one-of-a-kind clay beads that are hand-made by women in Kenya. These gorgeous beads are used to make the most amazing bracelets, necklaces and earrings. The women who make these gems are paid fair wages and enjoy good working conditions. Kazuri, which means "small and beautiful" in Swahili, began in 1975 as a tiny workshop experimenting with making ceramic beads made by hand.
---
Optional Tours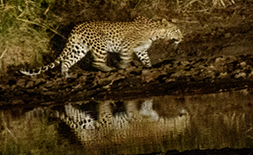 Night Safari Game Drive
A safari game area is a completely different world at night. Just after sunset, predatory animals begin to prowl and their prey become more alert. A lion's roar may pierce the silence and elephant shadows loom large. Our night game vehicles are equipped with filtered spotlights and the expert driver/trackers will help us spot elusive wildlife. A drive at night offers an unforgettable way to experience the bush.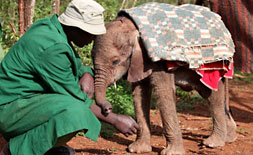 David Sheldrick Elephant Orphanage
The David Sheldrick Wildlife Trust is a Kenyan wildlife conservation charity founded in 1977 in memory of David Sheldrick by his widow Daphne Sheldrick. It assists and advises the Kenya Wildlife Service and manages an orphanage for elephants and rhinos. This trust is reintegrating orphaned elephants back into the Kenyan wildlife.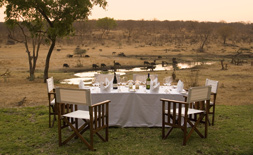 Bush Dinner
For those who have dreamed of dining in the wilds, Bush Dining experiences are incomparable. You will dine while watching the local wildlife in their natural habitat. This experience is presented with tables, safari chairs, and a bush kitchen, where a broad range of meats, poultry, fish and vegetables are cooked on-site.
---
Testimonials from past Kenya Tours
Gabriela Forca – "I had the privilege of traveling with Craftours to Kenya, it was a trip of a lifetime, so well organised. The game drives were spectacular, the accommodation superb, and the meals delicious. I met some wonderful people, everyone was kind and open. I left Europe stress out and returned a new person, relaxed and on a high from seeing the big five."
Merrie Jo Schroeder – "I've been able to cross off Tuscany and Kenya from my travel bucket list thanks to Craftours. The trip to Tuscany was wonderful — a terrific hotel, great day trips, outstanding service and the expertise of a guide who knows Italy inside and out! I hope to return one day. The trip to Kenya was a once-in-a-lifetime experience. Again, the accommodations were 1st class, the game drives amazing and Steve, our local guide, was absolutely the best. The attention to detail and extensive travel experience make their tours one of a kind."
Carolyn and Dan Rhoads – "My husband Dan and I took the trip to Africa in January of 2011. It really was a trip of a lifetime. Everything on the trip was fantastic. I never ever thought I'd do a trip like this, but we are sure glad we did. We saw every wild animal imaginable and close up. We stayed at beautiful places. I especially liked the tent cabin. We ate wonderful food and were really well taken care of. I'll never forget the trip and hope to go on another one soon."
Click here to view all tours.